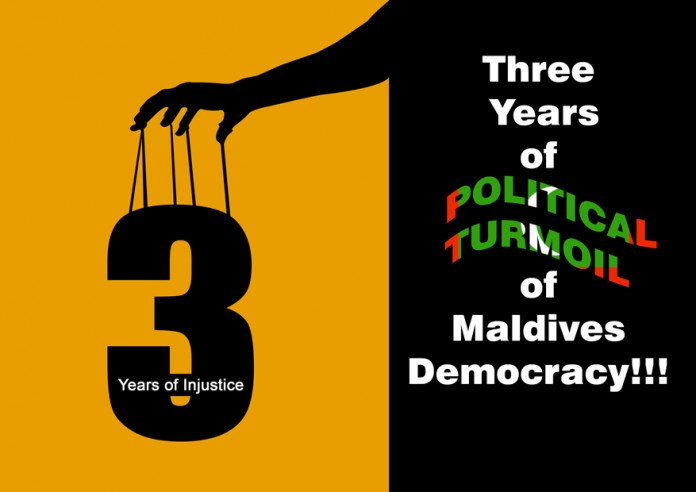 Maldives isn't an island paradise in terms of administration and democracy, contrary to popular belief and stunning images Maldives is difficult to govern, and, as it turns out, nearly impossible to hold an election in without everyone accusing everyone else of corruption. The country's problems started with Abdul Gayoom, the autocrat who used to run the Maldives and who has been accused of corruption and human rights abuses. He's still politically influential and recently got awarded the country's highest honor and is the "Honorary Leader" of one of the major parties. His younger brother, Abdulla Yameen Gayoom, is now the President of Maldives after Nasheed, "Republic of Maldives"'s first "Democratically Elected" President, was forced to resign after the police joined a protest against his rule. His supporters maintain that he was ousted in a coup. Nasheed's party spokesperson told, "Soldiers and police loyal to the former regime entered the presidential buildings and told Nasheed to voluntarily resign or face violence." Nasheed complied by stating, "It will be better for the country in the current situation if I resign. I don't want to run the country with an iron fist."
The courts and judicial system in Maldives have a longstanding legacy of impunity and corruption. Grand corruption has emerged as the biggest problem in the country. islands and lagoons have been subject to corrupt deals brokered by politicians. What is equally worrying, the judiciary is now so compromised by its closeness to the executive branch that many perpetrators of corruption may escape justice. It's not just the watchdog institutions in the Maldives that have been apprehended, but also people who show any dissent face threats and intimidation. All the leaders of the opposition parties are now either in jail or in self-imposed exile. The charges? Usually, inciting terrorism, under a broad-brush law that has basically handed the government power to issue go-to-jail cards at will. This kind of arbitrariness is a powerful method to quash dissent.
This grand corruption severely hurt the Maldives economy and further weaken the people's belief in leaders. With the judiciary now deemed a branch of the toothless executive and blind-watchdog bodies, people have lost faith in the state's ability or sincerity to get to the bottom of the scandal. 1.6 billion U.S. dollar scam involving leasing out of 59 atolls for 99 years each was preceded by a recent change in the law that allowed the government to sell islands without competitive bids.
Over the past year, Mr. Yameen's government has been in a state of turmoil with frequent arrests, firings and resignations of top officials. Among them was former Vice President Ahmed Adeeb, who was convicted in June of plotting to kill President Yameen by planting a bomb on his yacht. Mr. Yameen faces growing opposition because of the allegations about graft and his continuing purge of potential rivals. Some opponents have criticized a recent change in the law that has allowed the government to sell islands without competitive bids. During his presidency Yameen has sought various economic reforms including allowing the foreign ownership of land in Maldives for the first time. He has also sought closer economic relations with China by supporting China's Maritime Silk Road and also by promoting Chinese and other overseas investment in the Maldives.
Yameen has also faced criticism from opposition supporters and overseas leaders for the imprisonment of political figures such as former president Mohamed Nasheed and former Minister of Defense Mohamed Nazim. He has been accused of framing and imprisoning them for political purposes, a claim that Yameen has denied. Despite heavy restrictions, rallies regularly take place against Yameen's autocratic rule in the cramped streets of the capital, Male, away from the white sand beaches of tourist resorts. Recently, hundreds of opposition activists gathered near the island's artificial beach, loudspeakers blaring out opposition songs. There are frequent scuffles with police forces. On the other side of the congested island, weekly protest prayer are being held at a prominent mosque. Many of the protesters agitated during Mr Gayoom's time in office, pushing for a democratic transition, are worried about losing their recently gained freedoms.
This year Maldives has already seen a strict defamation law come in to force, with stiff punishments for comments or actions considered insulting to Islam or which "contradict general social norms", and tighter restrictions on demonstrations. The death penalty is also being reintroduced, after a 60-year unofficial moratorium. The moves have drawn criticism from the UN, the UK, the EU and the US. "It's the worst it's been," says Zaheena Rasheed, the editor of the Maldives Independent, a prominent English-language news website. She says journalists are finding it increasingly hard to report in the current climate, and even operate at all. Three major news outlets have already closed this year. One of her reporters, and an active blogger, went missing two years ago, and is thought to have been murdered. It is not clear who was responsible.
The government defends the new defamation law, saying it seeks to "safeguard ordinary citizens against baseless allegations" and encourages a "higher standard of reporting". But instead of bolstering his authority, his critics say the new legislation simply exposed just how threadbare the government's support really is. The government has said it remains committed to human rights, and that any legal action is a matter for the judiciary. But politically, Mr Yameen has become increasingly lonely. He is battling a broad opposition coalition led by his former deputy, Mohamed Jameel, and which includes former President Nasheed, now in exile in the UK.
Meanwhile, his own party has split, with a breakaway faction led by his half-brother and former ally, former President Gayoom. Last month, Mr Yameen admitted that the break was a "gift" to the opposition. "The people of the Maldives will find a way to get rid of this dictator," says Eva Abdulla, an outspoken opposition MP, from her airy apartment in central Male. "He's lost all support from within his own political party," she says.
In 2015, Ahmed Adeeb became the youngest vice-president in the country's democratic history. The 33-year-old successfully pursued a constitutional amendment to lower the minimum age in order to assume the position. He was regarded as one of President Abdulla Yameen's most-trusted aides. But three months into the seat of vice-president, stepping off a plane from Singapore, Mr Adeeb was arrested on charges of "high treason", for allegedly conspiring to cause an explosion on the presidential yacht. While initially the government said the blast may have been a result of mechanical failure, it later announced that it was an assassination attempt on the president and was opening a criminal investigation. Ahmed Adeeb complained on national media that he was always being unfairly blamed for such events – in his words, "a hen ready for slaughter". Maldives' constitution states, if Mr Yameen dies or is incapacitated, his vice-president would assume the presidency and Mr Adeeb has had a questionable past, having been implicated in a $6m (£3.9m) corruption scandal, as well as having alleged links to gangs. His involvement in any alleged plot is not implausible. Maldives politics is so murky that people have no idea what's going on. Amid the whole controversy surrounding assassination attempt, President Abdulla Yameen Abdul Gayoom declared a state of emergency. Home Minister Umar Naseer said that Adeeb would be charged with "high treason," an offense not specified in the penal code, but a term used in the Maldives for terrorism or offenses against the state by government officials, lawmakers, judges and others. The impeachment and subsequent arrest of Adeeb, formerly a close ally of the president happened in just under four months.
The United States and Britain expressed deep concern after the state of emergency was imposed, saying it curtailed vital civil liberties and urged the release of jailed opposition leader Mohamed Nasheed. "The United States calls on the government of Maldives to restore immediately full constitutional freedoms to its citizens by terminating the state of emergency," US State Department spokesman John Kerby said. Britain, a former colonial power in the Maldives, echoed Washington's concern at the imposition of a state of emergency for the first time in 11 years and called on it to "release all political prisoners".
The arrest added to the political tensions of this already fragile, young democracy, which in recent years has been rocked by power struggles, disputed elections and crackdowns on the oppositions, state of emergency, which suspended several rights enshrined in the constitution, including freedom of assembly and freedom of movement.