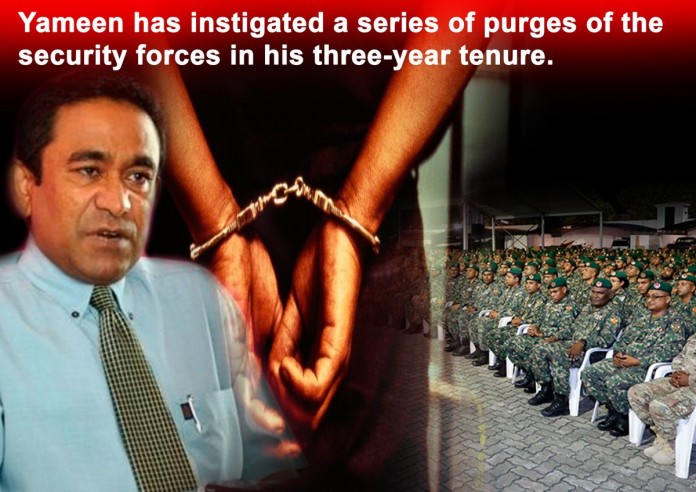 Since Prez. Yameen has taken over at the helm of Maldives, there has been a series of incidents where Yameen has shown no trust in MNDF and has abused his powers by jailing them or by instigating a criminal investigation against the MNDF officials.Yameen has done all this just to exert his grip on power and hijack the entire Government system.
In November 2014: Days after assuming office, he fired nine senior ranking MNDF officers on charges of sowing discord.
The head of the armory was dismissed and others were shuffled when the then Defence Minister Mohamed Nazim was arrested on weapons smuggling charges in January last year.
In October,2015:At least six MNDF officials were arrested on suspicion of links to an explosion on the president's speedboat. Three of them are now serving jail terms on terror charges.
August 10,2016: Soldiers were instructed not meet or engage in social events with "government ministers, political appointees by the president, members of the parliament, candidates seeking public office, activists of political parties, diplomats, members of armed forces of foreign countries, and other foreign parties without being granted prior permission from a senior military official.
August 11, 2016: Some eight soldiers were detained, including Mohamed Fawwaz and Abdul Fa'thah, at the military barracks earlier this month on charges of canvassing for support within the Maldives National Defence Forces for Yameen's ouster.
August, 2016: Four MNDF officials were dismissed including two brothers, Mohamed Fawwaz and Abdul Fa'thah and two others identified only as Naushad and Shah
20 August, 2016: On Yameen's instructions, Police launched criminal probe against the four detained MNDF soldiers including Abdul Fa'thah.
Due to all these situations, at present the MNDF is upset with President Yameen. This is not the first time that army is being exploited by him and thus, soldiers in MNDF have started showing their anger on social media. Yameen has completely usurped the judiciary. He has arrested and sacked a number officers in the army and police to browbeat these institutions into submission.