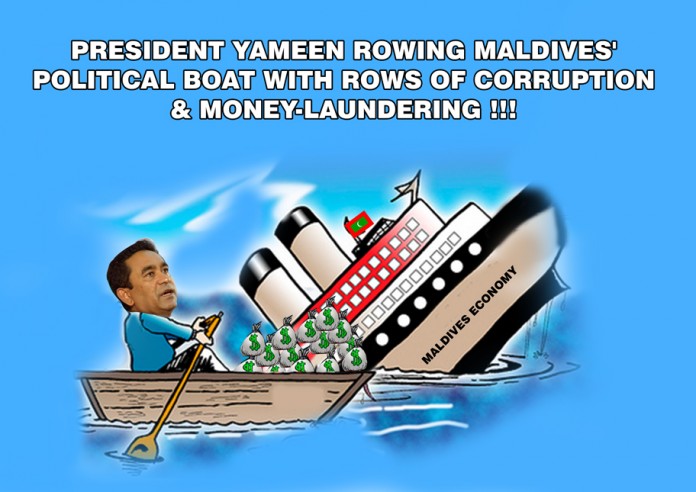 President Abdulla Yameen Abdul Gayoom has departed for Malaysia to participate in the annual general assembly of the Malaysia's largest political and ruling party, United Malays National Organization (UMNO). President Yameen and First Lady Fathimath Ibrahim had also previously visited Malaysia last May to take part in the PERMATA International Conference under the theme "Children Beyond Tomorrow".
Taking into account that our President and his Government is already involved in selling the country for filling their own pocket, involved in various corrupt deals, our investigative team at Maldives Uprising started an investigation into the repeated and frequent visits to Malaysia. The investigation revealed a startling discovery of money-laundering and embarrassment for Maldives as a nation.
The official invitation letter for annual general assembly of the Malaysia's largest political and ruling party, via letter No. UMNO(PR)/65/AGM2016/03(38) dated 12 October 2016 and on the letter head of "PERTUBUHAN KEBANGSAAN MELAYU BERSATU (UNITED MALAYS NATIONAL ORGANISATION) UMNO", was addressed to "H.E MAUMOON ABDUL GAYOOM, PRESIDENT OF THE PROGRESSIVE PARTY OF MALDIVES (PPM), FORMER PRESIDENT OF REPUBLIC OF MALDIVES." Furthermore the invitation letter (Attached for Due Reference) mentioned to "assign two (2) representatives to the official opening and thereby….." very clearly under point No. 3 of the invitation letter.
As a President of a nation, the fact that our President Yameen gatecrashed into annual function of another nation's annual general assembly function, where two  official representatives were supposed to be assigned to attend, raised as well as deepened our suspicion into the whole "Malaysia Trips" controversy. We were forced to investigate into the real reason behind these frequent trips to Malaysia as what was meeting the eye was just a "Tip of an Ice burg" of a corruption scam that has put whole of Maldives at shame.
The modus operandi of corruption scam started with Finance minister signing the biggest ever property deals of Maldives. Two contracts worth a total of US$260million for the construction of an office complex and a new wing of the state-owned Indira Gandhi Memorial Hospital in Malé. The contracts for the two 25-story towers, the largest property deals by the government in Maldives' recent history, were awarded to a Malaysian and a Singaporean contractor at separate ceremonies, without an open bidding process. On further investigation on how corrupt Government of President Yameen could award such mega construction contracts without any sort of bidding, we came across the official excuse stating amendments brought to regulations last year that allowed the cabinet's economic council to award major contracts without a bidding process.
On inquiry about the high cost with Malaysia's WZR Group, awarded the US$122million deal for the office tower, a consultant for the project blamed its high cost, the most spent by the government on any building so far, on chambers to provide specialized services including comfort, and safety aspects, such as preventing fire hazards. The glass and steel structure will house shops, offices, parking lots, a restaurant and a corporate lounge on the rooftop. The WZR Group would be paid back over 23 years in one of the largest property deals signed by the government, a US$122 million project for the office tower was awarded to Malaysia's WZR Group on March 1 2016. The building is estimated to be completed in 36 months. The then Finance minister, Abdulla Jihad, has been removed from the post now, after he was forced to award the contract to Malaysia's WZR, to avoid any kind of inquiry into the corrupt deal.
There is no issue with government offices being constructed, if it is more ideal in terms of space. However, sound policies cannot be just changed overnight. Either there is a planned intention or these are not sound policies. Questions arise when it comes to the amount spent for the project too. Maldivians think it can be done with one-third of the amount.
Studying the close ties between Maldives' President Yameen and Malaysian Prime Minister Najib Razak, we could not help but notice striking similarities between the two. Both are riding on the same boat of internal money laundering, looting their respective nations of its wealth like leeches sucking the blood. Just like the case of President Yameen, So much money was pouring so rapidly into the Malaysian Prime Minister Najib Razak's personal bank accounts that it is now ringing internal money-laundering alarms inside AmBank, a major Malaysian institution part-owned by Australia's ANZ. Hundreds of millions of dollars are being wired into Najib Razak's accounts from the Saudi Arabian Government, a mysterious Saudi prince and two shadowy British Virgin Island companies, while the head of a Malaysian state-owned company topped up the Prime Minister's credit card accounts with millions of Malaysian ringgit in cash.
First ladies of both the nation, Maldives and Malaysia, have previously and still been reported to have purchased a series of luxury items, from diamond jewellery to designer handbags, which appear beyond their respective husbands, President Yameen's and Prime Minister Najib Razak's, official annual salary.
Both the head of respective nations are rowing there political boat with rows of corruption and money-laundering scams, filling their own pockets with their nation's wealth. Maldivians and Malaysians are protesting on the streets against their respective leaders but their voices and cries appear to be getting lost and are unheard by their respective corrupt governments. President Yameen is now engulfed by his own greed, with no concern for Maldives, Maldivians or his own global image of being a President of a nation. President Yameen's frequent trips to Malaysia, which include attending functions uninvited and gatecrashing into meetings, are just not hampering the image of Maldivians but is also maligning the image of Maldives as a nation. President Yameen is not just looting the Maldives but also rushing to Malaysia for his due share from the corrupt scams, showing no national or self respect as he is blinded by his greed to fill his own pockets and bank accounts.