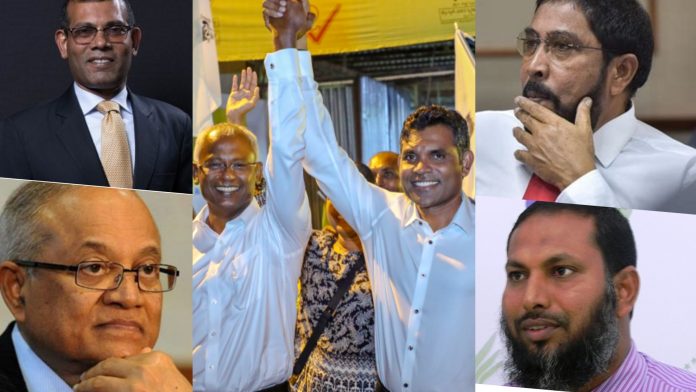 Maldives Politics
JP to work with government if agreements are honoured
Jumhooree Party's leader Qasim Ibrahim said at press conference on Sunday that the JP will support the government and help President Ibrahim Mohamed Solih fulfill his pledges, if 'legally binding' agreements are honoured –  Raajje.mv
News Link –  JP to work with government if agreements are honoured
MDP primary election
Maldivian Democratic Party (MDP) has announced the decision to recount the ballots of two constituencies, from its nation-wide primary election held last Friday – Raajje.mv
News Link – Recount ballots in two constituencies
Future of Maldives ruling coalition thrown into doubt

Coalition appears to be on the verge of collapse after Jumhooree Party leader Gasim Ibrahim announced he was open to talks with other parties to jointly contest the upcoming parliamentary elections – Maldives Independent
News Link-   Future of Maldives ruling coalition thrown into doubt
Prioritize the interests of the nation
Coalition member of the government, Adhaalath Party has called on its partners to maintain their alliance in order to prioritize the interests of the nation – Avas.mv

News Link –  Adhaalath urges coalition partners to maintain alliance
S

ave coalition
Former President Maumoon Abdul Gayoom on Saturday appeared to make a final plea to fellow coalition leaders to preserve the ruling coalition urging them to put national interest ahead of their political parties – Avas.mv
News Link – Gayoom plays 'national interest' card in final plea to save coalition
Women empowerment
The three women who won the MDP primary are, attorney Hisaan Hussain – who won the B. Thulhaadhoo slot, Jeehan Mahmood – who won the Lh. Hinnavaru slot, and Rozaina Adam – who won the Addu Meedhoo slot. North Galolhu MP Eva Abdulla did not compete in the primary as she has already won by default, having no other contenders for the slot from MDP.
Key Point- The current Parliament only has five female parliamentarians – a poor showing at the age of women empowerment and gender equality – Sun.mv
News Link – MDP Primary produces only 3 female victors
New political party
Elections Commission registered the new political party, Labour and Social Democratic Party, which is led by Lawyer Abdulla Haseen – Edition.mv
News Link- EC registers Labour and Social Democratic Party
News corner – In this segment ,we will bring for our viewers important news coverage by various Maldivian news portals.