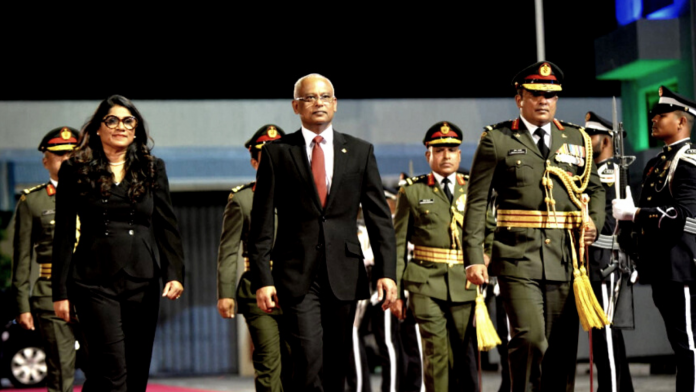 Mariya Didi, the Defence Minister of Maldives has announced that she will be fully extending her support to President Ibu to run for his candidacy in the Presidential bid for 2023.
The Minister in a tweet said she had worked alongside President Ibu as part of his cabinet since 2018 and found him to be a great team leader. She said she will fully endorse and support his candidacy.
I have worked with HEP @ibusolih as part of his cabinet from 17 Nov 2018 & found him to be a great team leader, patient, willing to listen with an open mind but decisive when needed. I fully endorse him and support his candidacy in his presidential bid for 2023.

— Mariya Didi 🎈 (@MariyaDidi) June 14, 2022
This comes following the official confirmation announced by President Ibu about his intentions to run for the election.
President Solih while confirming his contention, acknowledged that their might be candidates who might want to contest him for the party ticket. He said that the best way to determine the candidate for the MDP Presidential ticket is to hold a primary and the party's candidate would be determined by the congress.
The President says he is confident of winning the 2023 elections through a coalition. He also expressed that the most beneficial choice for Maldives would be if MDP remains in the power.
MDP's leader and Parliament Speaker Mohamed Nasheed has been very vocal in many ways about his intention to stand up for the Presidential elections. Though there has not been an official confirmation, Deputy Speaker Eva Abdulla has said that Nasheed will be contesting.
Mohamed Nasheed in one of his TV interviews earlier had said that he did not expect President Solih to contest for the President Primary, stating that Pres. Solih has never made such statements.
"I don't expect President Ibrahim Mohamed Solih to contest the upcoming presidential election. However, I have made it clear in many ways, repeatedly expressed my intention to contest in the election," Nasheed said.
Jumhooree Party, the second largest party in the ruling coalition has announced that the party will be contesting the elections. Adhaalath Party and MRM has not decided yet on this matter.