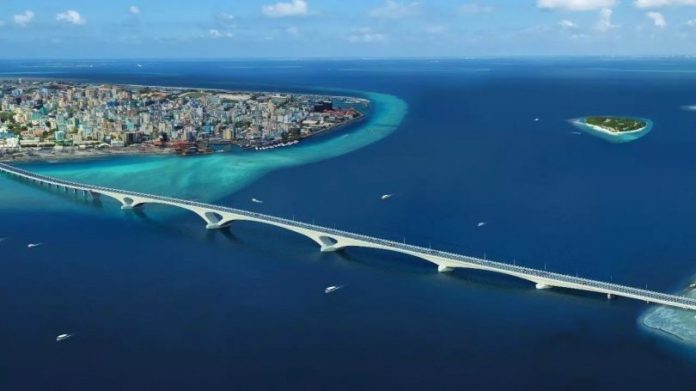 The mile-long Sinamale Bridge connecting the Maldives' main airport with the capital city was built by China at a cost of $200 million.
Fresh off his surprise election victory in the Maldives, President-elect Ibrahim Mohamed Solih had a warning for his economic team. The island nation had racked up huge debts to China during an unchecked, five-year building spree by the autocrat he had just defeated.
"Be prepared for it to be worse than we think," one advisor recalled Solih saying.
He was right. Soon after the Sept. 23 election, Solih met the Chinese ambassador and learned that the Maldives owed the Chinese government not $1.5 billion, as had been widely estimated, but nearly $3 billion.
That's more revenue than the Maldivian government raises in two years — a staggering figure that makes the diffuse island chain a prime example of how Chinese loans have swamped smaller economies.
As Beijing has pursued a mammoth infrastructure-building program spanning dozens of countries, it found perhaps its most pliant partner in the president Abdulla Yameen Abdul Gayoom, who silenced opposition and shrugged off corruption allegations while steering his country firmly into China's orbit.
With minimal oversight, Yameen leased an island near the capital to Beijing at a cut-rate price and invited Chinese state-owned developers to build a a mile-long bridge, thousands of apartments and a new runway, fuel farm and passenger terminal at the main international airport.
President Abdulla Yameen, right, met with his Chinese counterpart, Xi Jinping, in Beijing in December 2017.
It was more construction, more quickly, than had ever been seen in this Indian Ocean archipelago of fewer than half a million people. And nearly all of it was done under secret terms, without other bids and at inflated prices that raised questions of graft, according to people with knowledge of the contracts.
Details of the debt — and how much might have been stolen — will only begin to emerge after Solih takes office Nov. 17 and his aides gain complete access to documents that Yameen's government hid from lawmakers and the public.
But information already collected by Solih's transition team indicates that the liabilities are greater than initially believed and will soon out pace the islands' ability to pay.
"We have to find out exactly what happened, because nobody really knows," said Ahmed Naseem, a former Maldivian foreign minister. "It's a huge amount of money, and we need China's help to get to the bottom of it."
The Maldives offers one of the starkest examples of the scope of the Belt and Road Initiative, Chinese President Xi Jinping's multi-trillion-dollar effort to build transport, energy and communications links across nearly 70 countries.
China bills it as friendly development assistance. But critics say that the bridges, highways, power plants and ports are mainly designed to further China's diplomatic and security objectives, and that poorer countries could be forced to surrender land or other resources as collateral.
In several Asian countries, concern over Chinese debt has become a political issue as newly elected governments search for ways out of deals struck by predecessors.
This year, Malaysia's new prime minister canceled two projects worth $22 billion. Pakistan — where $60 billion in Chinese-funded infrastructure is planned, the most of any country — is trying to delay or revisit some projects.
The scenario that most worries leaders in the Maldives is what happened in nearby Sri Lanka, which tried to renegotiate loan payment schedules but failed — and last year ceded a port on its southern coast to China under a 99-year lease.
The Maldives consists of 1,192 palm-fringed coral islands, most of which are uninhabited, with about 120 developed for high-end hotels. Yameen's government changed a law to allow islands to be leased to tourism companies in closed bidding, paving the way for dozens more unpopulated islands to be turned into resorts.
At least seven islands went to Chinese companies, according to a foreign official in the region who was briefed on the plans. One island a short speedboat ride from Male, the capital, was leased to a Chinese developer for $4 million for 50 years — far below market value.
"I don't think anyone should view what Chinese companies have done in the Maldives or anywhere else as development assistance or commercial arrangements," said former Maldivian President Mohamed Nasheed. "This is a land grab."
Nasheed, the father of Maldives' multi-party democracy and a close friend of Solih, returned this month after 2½ years in exile during which he became a vocal critic of China. Stung by the backlash against Xi's signature initiative, Beijing recently lashed out at Nasheed for "irresponsible remarks" and said its relationship with the Maldives would continue "on the basis of equality and mutual benefit."
Former President Mohamed Nasheed, center, waves during a rally in Male, Maldives, celebrating his return from exile. President-elect Ibrahim Mohamed Solih is on his right.
But the Maldives is now dependent on China in a way few could have imagined.
Eight years ago, Beijing didn't even have an embassy here. Now China accounts for one-quarter of the Maldives' foreign tourists and some two-thirds of its external debt. It has become one of the islands' main sources of imports, on par with longtime trading partner India.
"China has opened the tap, and if they decide to close it, that would be horrifying for the Maldives," said the foreign official, who requested anonymity under diplomatic protocol.
The growing relationship has most alarmed South Asia's biggest power, India, which worries that China is attempting to establish a permanent presence on its doorstep.
Last year, Yameen pushed through parliament a free trade agreement with China that makes explicit reference to "provisioning a military establishment" and nuclear materials. Indian officials speculated that Beijing could deploy a nuclear submarine.
A few months later, China denied a report in the Indian news media that a marine observatory it was developing in the northern atoll of Makunudhoo — 250 miles from Indian shores, along a key shipping lane between Asia and the Middle East — would be used for military purposes.
A Chinese family is seen on vacation at a resort in the Maldives in 2016.
Eager to ratchet down the tensions, Solih's incoming administration has told the Indian government it plans to examine that lease and those involving other islands.
"I don't know the purpose for it but I believe this arrangement has to be carefully looked into," said Naseem, the ex-foreign minister. "Maldives cannot be the center of a cold war in the Indian Ocean."
Solih has also pledged to investigate whether Yameen and cronies profited from foreign deals.
In 2014, a government audit found that tens of millions of dollars in tourism revenue had been diverted to private accounts belonging to Yameen's vice president and others. Yameen denied wrongdoing and jailed the vice president. The auditor lost his job and went into exile.
The soaring costs of Chinese-backed projects have made them a focus of corruption allegations.
Five years ago, plans for a mile-long, six-lane bridge connecting Male with the airport put the cost at about $100 million. Under Yameen, the bridge was narrowed to four lanes but the cost jumped to nearly $200 million, more than two-thirds of which was covered by a loan from China's Export-Import Bank.
In the airport renovation, Yameen's predecessor in 2012 abruptly canceled a $500-million contract with an Indian company, GMR. After an arbitrator ordered the Maldives to pay GMR $271 million in damages, Yameen raised cash by issuing a $200-million sovereign bond last year through BoCom, a Chinese investment bank.
By then, the cost of the airport expansion had doubled to $1 billion. Yameen's government brought in a new developer to start work: China's Beijing Urban Construction Group.
Solih said in an interview that he would consider asking the FBI and other U.S. agencies to help trace missing funds and unravel contract details. A senior State Department official said the U.S. government was "prepared to help them in any way."
Solih's aides are still trying to determine whether debt to China could rise beyond $3 billion. The Maldives' government backed some loans with sovereign guarantees, meaning the recipient assumes liability if projects flop.
One guarantee, worth $370 million, was issued last year for the construction of 7,000 public housing units on reclaimed land north of Male, where more than 140,000 people are squeezed into two square miles.
But the state-owned Maldivian developer is close to bankruptcy. Last month the government had to inject $24 million to prop up the company, raising questions about the project's viability and the Maldives' ability to repay the loan.
"We will have to talk to China — not necessarily about canceling deals, because we need development, but about renegotiation," Naseem said. "We can't pay something that is ridiculous. We can't give them our blood, can we?"