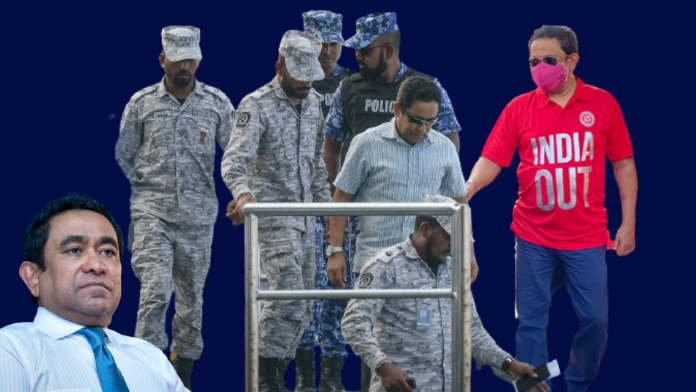 As part of the campaign led by opposition leader, former President Abdulla Yameen Abdul Gayyom, had requested that 'India Out' be graffitied on the walls of homes.
Rallies held under the campaign have been expanded to atolls, in addition to Male' area. The activity has increased immensely since yesterday, as many walls get scribbled on in the atolls.
One such graffiti at Sh. Funadhoo School wall is currently under investigation. A photo showing 'India Out' and 'Say No To Indian' on the wall of Funadhoo School, has recently gone viral on social media. Members of the public has shown concerns and voiced out on the matter saying that many foreign teachers are employed in the school.
Education Ministry's Permanent Secretary Ahmed Ali addressing on the issue, said that the Ministry has requested Maldives Police Service to investigate the matter and that necessary actions will be taken after discussion with the relevant authorities.
He also stressed on the fact that triggering foreign teachers to worry about their stay in Maldives regarding their safety and security, only endangers the future of students studying in school.
These teachers are usually recruited to teach subjects which local teachers are unavailable for.
"They (Indian teachers) have been requesting at schools to ensure the safety. This is an extremely pressing concern." he said.
Nasheed's remarks on the matter:
Parliament Speaker, former President Mohamed Nasheed has stated that there is no support for the 'India Out' campaign which is led by the opposition leader.
In a recent interview to Sri Lankan news outlet, Nasheed pressed on the fact that India is the country that is the most compatible with Maldives at all aspects, highlight that both countries are situated in the Indian Ocean and shared historical ties as well.
He stressed that "India First Policy" will remain as the Maldivian Foreign Policy.
When questioned about the 'India Out' movement in Maldives, Nasheed replied saying that such movement and campaign will not get popular or get support by many. He believes that Maldivians will not support for a movement against India, or for that fact any other country, says its very misguided.
The opposition coalition alleges that many Indian military officers are stationed in the Maldives – and that it threatens national security. Whereas the government describes 'India Out' campaign as an effort headed by Yameen to ruin the close ties maintained with a neighboring country.