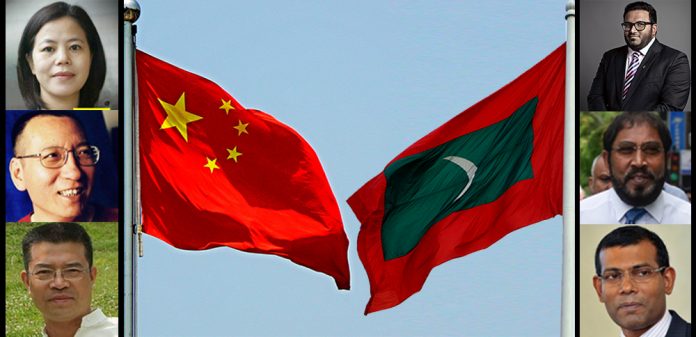 Political situation in Maldives has been swinging from the tragic to the farcical in the last two months as President Yameen struggles to retain his hold on power. Having sent his nemesis – former President Nasheed to 13 years prison on an utterly bogus charge of 'terrorism', President Yameen thought that the remaining leaders could either be persuaded or bought off or brow-beaten into submission. It is now revealed by former Vice President Ahmed Adeeb, who was part of the ruling coterie at the time, that the charges against Nasheed were "masterminded under direct Government scheming and influence"; The other key opposition figure Qasim Ibrahim has also been imprisoned on and off in the month of April on charges that could not be substantiated before the Court. And now President Yameen has decided to follow the footsteps of China and has started denying medical care to imprisoned leaders.
Ahmed Adeeb, former Vice President of Maldives and once the closest person to the President is nowadays repeatedly seeking permission to travel overseas for the treatment of glaucoma, kidney stones and internal cysts. But the government is not allowing him to seek medical treatment overseas citing the reason that he will have the opportunity to flee. Ahmed Adeeb is serving a 33-year jail sentence on multiple counts of corruption and terrorism.
Adeeb's legal team, the international human rights group said the "authorities have since 2016 ignored repeated requests for specialized medical treatment that is only available outside Maldives, even as his health has deteriorated." "Failing to provide adequate medical care to prisoners is a violation of Maldives' international human rights obligations.
"Rule 24 of the UN Standard Minimum Rules for the Treatment of Prisoners (Nelson Mandela Rules) clarifies that the 'provision of health care for prisoners is a State responsibility' and that prisoners 'should enjoy the same standards of health care that are available in the community' and without discrimination." Adeeb's wife Maryam Nashwa .

The most concerning thing right now is that he has been diagnosed with glaucoma which is a condition that can lead to permanent blindness . Doctors have also asked to test an internal cyst for cancer." The family is especially concerned about the cyst because a sibling had died after the discovery of a cancerous cyst.
 Jumhooree Party leader MP QasimI brahim was found guilty of attempted bribery and sentenced to three years, two months and 12 days in prison . The lawmaker fainted inside the courtroom during a closed-door hearing of his bribery trial. He was rushed out on a stretcher and taken on an ambulance to the Indira Gandhi Memorial Hospital (complaining of breathing difficulties and chest pains). The family had decided to transfer him to Sri Lanka for better medical treatment. But his passport was seized when they went to the airport. We do not believe the government has a valid reason to seize his passport.
MP Gasim Ibrahim was barred from traveling overseas after he was hospitalized . Despite assurances from Home Minister Azleen Ahmed that medical leave will be authorised within days, the Attorney General's office appealed the part of MP Qasim's verdict that ordered the authorities to arrange testing and treatment abroad. The right to health care is a right guaranteed to all. But Government is restricting this right, this government is not humane towards anyone.
Even the First democratic elected President Mohamed Nasheed was not initially allowed to go abroad for his treatment. Doctors had recommended Former President  to undergo a surgery to correct slipped discs in his spine. Former Mohamed Nasheed was imprisoned on politically motivated charges and his sentence were brazenly framed and fixed to strip opposition.
When we think about what inspired the PPM Government to take such steps then China seems to fit the description. Chinese Government has always resorted to inhumane practices when it comes to the treatment of prisoners. Dozens of political detainees and prisoners have reported being deprived of adequate medical treatment.
When Dissident activist Chen Xi entered Xingyi Prison in Guangxi in January 2012 to serve a 10-year sentence. He had been convicted of "inciting subversion of state power" for writing articles about human rights and democracy. He had contracted frostbite on his hands after prison guards refused to give him warm clothes and blankets during the unusually cold winter. After two years, Chen began to suffer from chronic enteritis, a treatable inflammation of the digestive tract normally caused by contaminated food or drink. But Chen didn't receive treatment. In December 2013 he began to have frequent bouts of severe diarrhea. When his wife visited him in mid-2014, he was extremely weak due to dehydration and fever, had lost a considerable amount of weight, and was in a poor mental state. Disturbingly, Chen's case is not an outlier.
Even Nobel Peace Prize Laureate Liu Xiaobo died in July 2017 due to complications from liver cancer. Chinese security agents and propaganda officials went into overdrive before and after his death, attempting to paint a picture that Liu received the best available medical care. However, during Liu's seven years at Jinzhou Prison in Liaoning Province, authorities knew that Liu had hepatitis B, a disease that put him at greater risk for liver cancer. Yet, Liu's cancer was so advanced when he was granted medical parole and moved to a hospital that no surgery, chemotherapy, or radiation therapy could be performed .
Chinese law mandates that prisoners and individuals held in detention facilities receive prompt medical care; however, the reality is often far removed from the law. Deliberately depriving prisoners of medical care is a life-threatening form of torture, and appears to be commonly used against political prisoners in China. And this Horrible method is also being used by The PPM Government to torture the political Prisoners in Maldives.
Another pressing case of denied medical treatment is that of rural women's rights activist Su Changlan . Su was detained in 2014 after posting social media messages in support of the Occupy Hong Kong pro-democracy protests. Authorities in Guangdong's Foshan City arrested and charged Su with "inciting subversion of state power," accusing her of trying to "overthrow the socialist system" with her articles and comments on We Chat. Su suffers from hyperthyroidism, which can be fatal if not treated. In custody, she has suffered from complications from a lack of treatment, including heart arrhythmia, trembling hands, swollen eyes, weight loss, and incontinence. Su told her lawyers in meetings throughout 2015 and 2016 about the poor or non-existent medical care she had been receiving, as well as the poor hygiene and living conditions.
Many of these cases follow a similar pattern, starting with a decline in health from existing conditions or new injuries emerging due to torture or ill-treatment, denied access to adequate and prompt medical care, and a refusal to approve applications for medical bail or parole. Family members worry that the government will simply let their loved ones die behind bars.
As Dostoevsky famously wrote,

"The degree of civilization in a society can be judged by entering its prisons.

" In China, as seen in the cases of Chen Xi, Su Changlan, Cao Shunli, and so many others, the government refuses to behave in a civilized manner when it tortures prisoners of conscience by depriving them access to adequate medical treatment. And the same is becoming the case in Maldives too. The Maldives Government is locking up opposition leaders, activists , journalists or anyone who speaks up against the present Government. The judiciary is filled with corrupt people sentencing them without an evidence and then these prisoners are even being refused medical treatment. Is our Government going the China way?