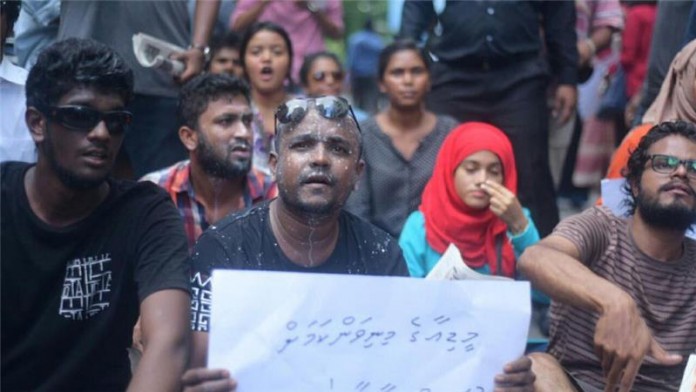 The situation for media freedom in Maldives has dramatically declined since President Abdulla Yameen assumed office. While journalists are being prosecuted, perpetrators of crimes against journalist roam freely with impunity." World marks the international day to end impunity for crimes against journalists, human rights groups have urged the Maldives to practice what it preaches internationally, describing the country's support for the UN resolution while cracking down on the press at home, as "dark comedy."
The trial of three Raajje TV journalists, charged with obstructing police officers while covering an opposition protest and a bomb scare, is set to close on November 8. If found guilty, the young reporters face up to a year in jail.
Mohamed Wisam, Leevan Ali Naseer and Adam Zareer, are the first Maldivian journalists to be prosecuted since the country adopted a democratic constitution in 2008.
Their prosecution stands in stark contrast to the lack of justice for crimes committed against the press, including the disappearance of Maldives Independent journalist Ahmed Rilwan, the arson attack on Raajje TV, the near-fatal beating of the station's former news head, Asward Ibrahim Waheed, and the mass death threats sent via text messages to journalists.
Andrew Smith, a legal officer at Article 19, said the Maldives government cannot divert attention from its national record on press freedom by sponsoring UN resolutions.
"The situation for freedom of expression in the Maldives shows how wide the gap is between what the government says at the UN, and what it does at home".
Yameen Governments have routinely surpassed freedom of assembly, beating up protesters, avoiding the recommendations of the CONI to prosecute police who attacked protesters, and recently ignoring Maldives Constitutional provisions that state that the police need only be informed of planned assemblies."