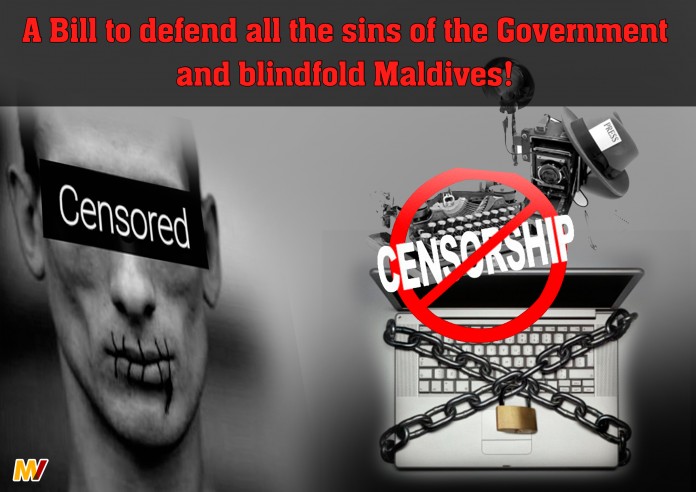 The People's Majlis approved Tuesday a bill imposing severe restrictions on free speech and press freedom despite widespread outrage and concern.
Some 47 MPs of the 78 present voted in favour, 31 voted No.Three MPs of the ruling Progressive Party of the Maldives, and one from ruling coalition partner Maldives Development Alliance voted to reject the bill.PPM MPs defended the bill on religious grounds, claiming protecting one's good name was an Islamic tenet and accusing journalists of defaming politicians.
Leader Ibrahim 'Ibu' Mohamed Solih stressed, adding: "I will reiterate, freedom of expression is the basis of democracy. This bill will destroy that foundation."
This bill was introduced to the parliament soon after the release of an audit report that revealed the theft of at least US$80million from state coffers by senior government officials. Yameen has denied involvement in the historic scandal. Defamation Bill will become a weapon to defend false deeds in Maldives.
Key provisions include a fine between MVR25,000 (US$1,621) to MVR2million (US$130,000) for slander and remarks and content that threaten national security and breach social norms. If a person found guilty by the court is not able to pay the fine, he or she could be jailed for up to six months.
Journalists face fines between MVR50,000 (US$3,242) and MVR150,00 (US$9,727).Verdicts can only be appealed once the fine is paid to the state.
The social media reacted in strong manner and the Bill was condemned even internationally. The following are the tweets made regarding the bill on Twitter.