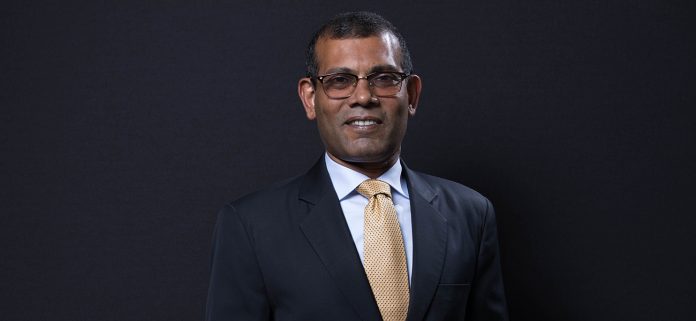 Prime Minister of Sri Lanka, Ranil Wickremesinghe held discussions with former President and current Speaker of the Maldivian Parliament, Mohammed Nasheed.
Its been stated that during the conversation, former President Nasheed generously offered to assist Sri Lanka in securing relief for the country from foreign regions.
Sri Lanka's PM accepted the offer and appointed former President Nasheed to coordinate the relief efforts.
Sri Lanka has been in chaos because of its growing economic crisis. The public blames the incumbent government for making poor decisions that has led Sri Lanka to its current state.
Citizens of Sri Lanka has been protesting for over a month calling for the removal of Pres. Gota and the Rajapaksas from the government. The publics joint movement led to the resignation of the entire cabinet but the anger of the public did not stop there. They continued the protest and the last straw was drawn when it was alleged that the government of Sri Lanka sponsored state violence against the peaceful protesters leading to the outbreak of anger and tension in the streets.
Ex Prime Minister had to resign from his post, following the angry responses, echoing in the voices of the people. President Gotabaya Rajapaksa appointed Ranil Wickremensinghe on 15th may, 2022, following the resignation of Mahinda Rajapaksa.
Sri Lanka's economy is in dire straits with its usable foreign reserves down to less than $50 million, as stated by the country's finance minister. The country is due to repay $7 billion this year of the $25 billion in foreign loans it is scheduled to pay by 2026.
Prime Minister Ranil thanked Mohamed Nasheed for his support during this troubled times and looks forward in working together.