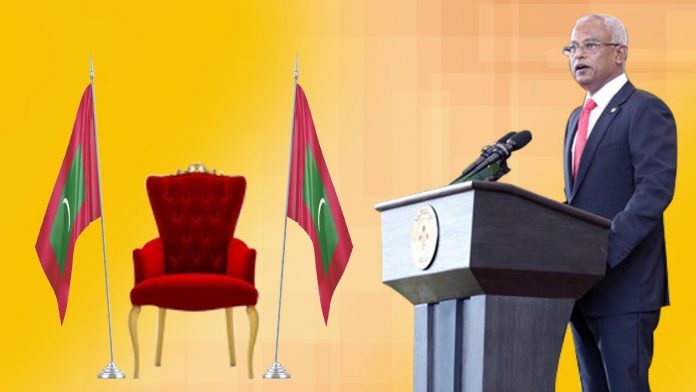 After a very successful Presidential address to the People's Majili for the annual year, President Solih along with Parliament Speaker Mohamed Nasheed headed to Sh. Komandoo for the campaign of their party representative, Mohamed Raashid.
Speaking in the campaign, President Solih said that the decision made by the people of Komandoo constituency in the 2019 elections was to place the member of MDP, late parliamentarian Hussain Waheed to the People's Majili. This was a five-year decision. The same mindset must be maintained.
"Hussain Waheed, a former Komandoo MP, left us. However, he was elected to the People's Majlis in 2019 by the people of Komandoo. This decision has to be maintained," said President Solih.
He urged the people to put faith in the party member so that they can speed up and complete what they plan on doing for the development of this sector.
Parliamentary Speaker Mohamed Nasheed has already given his views before while speaking at a campaign event. He has expressed that MDP must remain in power for 10 more years to improve the life of the Maldivian people and that MDP was the only party in Maldives that ruled in accordance with the vision of the people.
In his address, he also criticized the administration of former President Abdulla Yameen, saying that he had only one policy which was to focus on prioritizing attention of everyone to one place. "It's misguided to believe our people can progress, that their daily life can change, from concrete buildings. A boulder rock harbor, a quay wall, some concrete – this is not the development we speak of," he said.
This is the second time President Solih has visited Komandoo constituency to campaign for MDP in the by-election. The President was accompanied by Former President Mohamed Nasheed.
The Komandoo parliamentary seat was left vacant following the death of MP Hussain Waheed on December 14, 2021.
The elections is scheduled to be held tomorrow, 5th Feb 2022. Ruling party, MDP's candidate for the Komandoo by-election is Mohamed Raashid. Opposition PPM's candidate is Moosa Fathuhy Adam. MNP's candidate is Abdul Hannan Idrees.