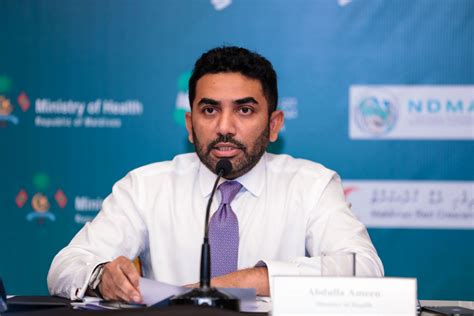 Minister of Health Abdulla Ameen, under heavy fire over the unlawful procurement of ventilators for the Maldives' COVID-19 response, tendered his resignation during the early hours of Wednesday.
The move to step down came shortly after Parliament representatives of the ruling MDP's submitted a no-confidence motion against the minister, powered by the signatures of 24 MPs.
In Ameen's resignation letter addressed to President Ibrahim Mohamed Solih, he wrote that he did not perceive the state "pressuring" him to give up his position as a "blow" against him.
Stating that he understood the situation from discussions with the President, Ameen wrote that he believes leaving his position was the best option, to maintain order.
On October 14, the Anti Corruption Commission (ACC) requested the PG Office to press charges against Minister Ameen, Financial Controller Ahmed Aslam, two individuals that had reviewed and signed off on documents, in addition to several senior officials sitting on the health ministry's bid committee.
ACC launched a joint investigation with the Maldives Police Service in August, after the Auditor General's Office published a compliance audit on the Ministry of Health's COVID-19 expenditure, revealing that the ministry had spent over MVR 30 million in violation of the Public Finance Act.
As part of the government's COVID-19 response efforts, the health ministry had signed agreements with Naadu Pvt Ltd to procure 24 ventilators and MedTech Maldives Pvt Ltd to secure 50 ventilators, in addition to the 75 ventilators from Dubai-based Executors General Trading LLC.
Per the audit, the health ministry's negotiations with Executors were rife with corruption, including false claims that the order was placed following a recommendation by the World Health Organisation (WHO). The state has already paid MVR 30.9 million in advance for the 75 ventilators, covering 90 percent of the total cost of MVR 34 million.
The report compiled by ACC alleged that the bid committee did not conduct due diligence concerning Executors General Trading since Minister Ameen had presented the company as having been recommended by WHO. The report added that advance payment was made to the Dubai-based company using false documentation concerning the receipt of 65 mechanical ventilators and 10 portable ventilators, despite the fact that the goods were not sent to Maldives.
After being summoned to the parliamentary Public Accounts Committee, the minister and other staff maintained that they had operated in line with the Public Finance Act and relevant procedures to procure the ventilators, asserting that nothing was done to facilitate corruption or illicit enrichment for any entities.
Source- Edition.mv