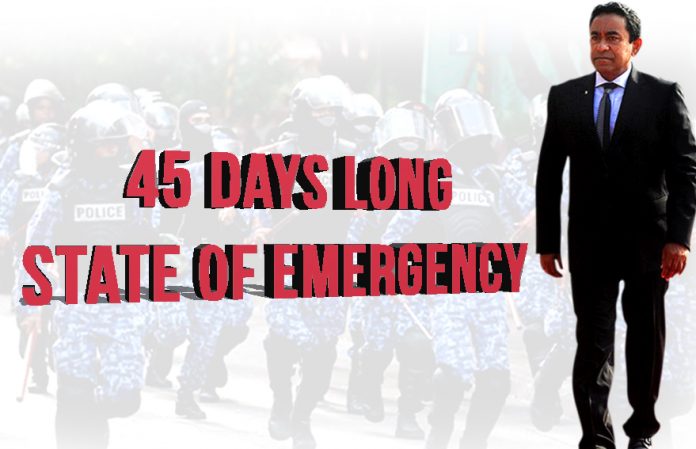 When the Supreme Court of Maldives took a brave step and ordered the release of 9 political prisoners including Former President of Maldives, Mohamed Nasheed, then justice seemed to prevail. However, Pres. Yameen didn't let it happen and on the contrary, imposed emergency. This caused irreparable damage to the country during last 45 days.
On the 1st February, Maldives supreme court ordered release of 9 Political prisoners and to re-instate 12 lawmakers .
Thousands of people hit the Male streets demanding to release the  political prisoners including President Nasheed .
On the 5th February, Maldives president Abdulla Yameen hurriedly declared state of Emergency for 15 days to suppress the movement.
Shortly after, Maldives Police Forcefully Arrested the former president Maumoon Abdul Gayoom and his son-in-law Mohamed Nadheem .
Yameen government clamped down on freedom of media. On-line news portal Maldives Independent and Raajje TV came under cyber attack.
Chief Justice Abdulla Saeed and Justice Ali Hameed arrested from the Supreme Court after a seven-hour long operation by security forces.
While Government carried crack down on opposition leaders and illegally detained hundreds of Maldivians, the citizens relentlessly protested for last 45 days.
Several country including USA, Saudi Arab , UK and China issued travel advisory.
On February 20th State of Emergency was extended by another 30 days, after President Yameen forced ruling party MPs to approve the State of Emergency.
Prosecutor General Aishath Bisham opposed unconstitutional extension of state of Emergency .
President Yameen stripped Parliament of the powers to impeach him. He further amended  the Judges Act to suit his evil designs.
On 16th March Maldivians staged biggest protest "Yameen 'Huttuva' (Stop Yameen)". It was joined by thousands of Maldivian and the anger against Yameen Government was at its highest. Security forces arrested 141 people including Three Raajje TV journalists .
Yameen Government unlawfully Charged the former President Maumoon Abdul Gayoom chief justice Abdulla Saeed ,Justice Ali Hameed Mohamed , Three MPs Ilham Ahmed , Abdulla Sinan , Faris Maumoon ,Two former CP Ahmed Areef , former CP & MP Abdulla Riyaz and Gayoom's Son-In-Law Mohamed Nadheem With terrorism .
EU parliament discussed 16 point resolution and further called for targeted sanctions against Yameen Government .
UN human rights chief described the Government's actions as "an all-out assault on democracy".
45 day long state of emergency severely affected Maldivian tourism industry which has lost USD20 Million every day .
Although, 45 days long illegally imposed State Of Emergency has now been lifted by the President Yameen, it can hardy undo his misdeed. The moot question remains, whether the President will now listen to voice of Maldivians and address concerns of the world restoring rule of law in Maldives and ensue justice to its people.