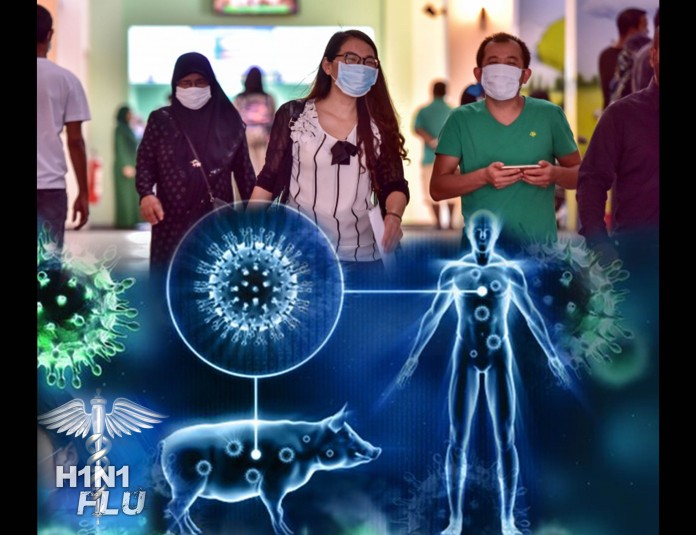 Male: Swine Flu (H1N1 Flu) is spreading all over Maldives. According to Health Protection Agency's daily statistics 460 people have tested for the H1N1 virus out of which 169 tested positive. Three people have died of swine flu so far while 33 patients are hospitalised.. The first out break was reported in 2009. The epidemic of swine flu has spread in Maldives yet again in 2017. President Yameen Government has failed to prevent the spread of the H1N1 swine flu virus evident from the number of cases being identified.
What is H1N1 Flu or Swine Flu?
Swine flu (Swine Influenza) is a respiratory disease caused by viruses (Influenza Viruses) that infect the respiratory tract of pigs as well as humans, resulting in nasal secretions, a barking cough, decreased appetite, and listless behavior. H1N1 swine flu was declared a pandemic by the World Health Organization in June 2009. People develop swine flu infection when they are closely associated with pigs (for example, pig farmers, pork processors).

After observing the statistics regarding the spread of Swine Flu in Maldives, we found that the number of patients infected by this Flu are increasing from last 3 years. Some reasons that came forward regarding this epidemic in Maldives include the dense population of Male which makes the decease easily transferable. Another reason are the lack of proper Health facilities required to treat patients of Flu. Though one of the major reasons of this recent epidemic in Maldives could be the influence of Chinese people in the country. Since 2014, thousands of Chinese workers have been involved in major construction work and are living here.

The increase of Chinese

workers

in Maldives

may

also

be seen as a

major contributor in Maldives' latest swine flu epidemic.

The H1N1 epidemic is well known to spread in Maldives just weeks after it spreads in China. 
We are addressing this issue because H1N1 Flu is at large common among Chinese population. British and Chinese scientists from Oxford University have found a genetic link in Chinese population which explains why Chinese populations may be more vulnerable to the H1N1 virus, commonly known as swine flu.
The spread of Swine Flu in Maldives

Thayyib Shaheem, a prominent opposition and a social media activist, first exposed about the spread of the disease in Maldives through a tweet on his Twitter account. He is now under arrest for warning Maldivians of this deadly virus. The exposure has resulted in discord among the public against Yameen regime hiding information from the very own citizens. Meanwhile Swine Flu Vaccination Center, Government officials, Government connected influential persons and ruling party members(PPM) are getting a VIP stamp for fast vaccination service bypassing all panic stricken Maldivians.
The Government is attempting to hide any such reports and keeping this issue as a top secret. The top secret report, found that Maldives is having the rs12252-C variant of Swine flu, which increases the chances of severe infection by six times. This n
ew strain of virus, found primarily in China, has potential to transmit easily to humans and cause pandemic.
According to a source,a
Chinese woman who arrived in Malé from Beijing
was
tested positive for Influenza-A virus (H1N1). The
3
7-year-old Chinese woman had arrived in Maldives . "After she was confirmed positive for Influenza-A she was quarantined as per protocol and is now receiving treatment,"
This information was
not
made public by Yameen Government due to the China's influence
.

Other than this, the reports tell that Chinese sells and distributes west-rejected dubious pork products in Maldives in name of trade. These products were also distributed free by Chinese Tourists to Children in Thoddoo last year. Not only pork meat is forbidden in Islam but also is considered a threat to human life by most of health organizations worldwide.

Earlier Also China has been proved to supply adulterated products like Human Meat in the form of Pork meat or Beef. The earlier Reports and Photographs by Zambian Press exposed China regarding selling human dead bodies as a pig meat product in Africa. China had at that time demanded an investigation into the exposure into the scam and later rendered an official apology for evidences.
Zambian press was applauded by global media for the exposure, their article exposed that the Chinese use human meat to make corned beef and sell it to Africa.
Maldives and China, as

countries have strong business ties together, but China's growing influence in Maldives during Yameen regime has created scare among locals who have now started seeing Yameen's policies with China as a threat to Maldives.

The inflow of west rejected Chinese products pose a direct threat to Maldivians. The heavy inflow of H1N1 infected Chinese workers and tourist are to be blamed for the spread of Swine Flu in Maldives again.  Meanwhile Chinese meat processing industries are shamelessly canning infected meat products and selling them as a pig meat products to other countries which includes Maldives.
At present, we need our Government and specially Health Department to re check all the meat products being imported from China and also start examining the Chinese workers in Maldives. It is advisable that Maldivians need to stay distant from any person with H1N1 symptoms, most especially from Chinese tourist who visit Maldives and say NO to any sort of meat products from China. The Government also needs to work on spreading awareness about the prevention from the Flu and ensure rapid service for the infected Maldivians.
Related links