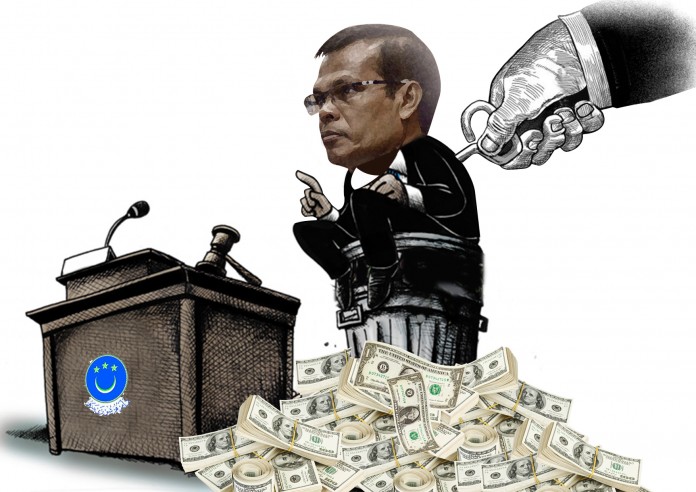 Why is it important for the opposition to carry out another No Confidence motion against Maseeh!
Amidst heightened tension in Malé, Monday's historic no-confidence vote against the speaker of parliament was a major step against President Yameen's dictatorship and would pit him against the new opposition alliance formed between former Presidents Maumoon Abdul Gayoom and Mohamed Nasheed along with Jumhooree Party leader Gasim Ibrahim and Adhaalath Party leader Sheikh Imran Abdulla.
Though nothing went as it should have been and once again Majlis became a place to assault democracy defenders. 13 opposition Members of Parliament were forcibly removed by military officers. MPs were manhandled, dragged and disproportionate force was used to forcefully move them out of the chambers by the military. Yesterday, only these Mps weren't dragged out but the democracy of Maldives was also thrown out of Majlis on the orders of Maseeh.
13 opposition MPs removed from the chamber of Majlis

— Ibrahim Shareef (@AdduShareef) March 27, 2017
This requires all of us to analyse the fact that how important it is to impeach the present speaker of Majlis i.e. Maseeh. Here is a look at some of the 'constitutional' decisions made by him during his tenure.


1.

Abdulla Maseeh Mohamed is the Speaker of the Maldives Parliament, named People's Majlis. He was elected as a Speaker on 28 May 2014. Maseeh is also a close ally of

President Abdulla Yameen

and this may be noticed in his decisions too.
Government brings in military to occupy the Parliament chamber to obstruct and rig the no confidence vote on the Speaker. #NoToMaseeh

— Mohamed Nasheed (@MohamedNasheed) March 27, 2017
2. Maldives Parliament i.e. Majlis has passed various controversial bills under the guardianship of Abdullah Maseeh. These bills include the new anti-terrorism bill according to which Former President Nasheed has been imprisoned. The

Defamation Bill

was passed recently and was labeled as the death of Free Speech in Maldives. Due to a

Foreign Land Acquisition Bill

passed under Maseeh's supervision, today Faafu Atoll is on a verge to be sold to Saudi Arabia. One of the bills also passed by him include the one in which subsidies were removed from staple food prices.
What we saw in Majlis today was a total disgrace! The extent of govt's fear of a free vote. All the reason why we must overhaul the system!

— Maumoon Abdul Gayoom (@maumoonagayoom) March 27, 2017
3. Abdullah Maseeh has several times misused his position as speaker in Maldives by impeaching two Ex-Vice Presidents of Maldives, Dr Mohamed Jameel Ahmed and Ahmed Adeeb. In July 2015, The People's Majlis had notified Vice President Dr. Jameel Ahmed of a resolution calling for his removal. The petition was submitted with 61 signatures. PPM MPs then publicly accused Dr. Jameel of incompetence and disloyalty.
4. In case of Vice President Adeeb's imprisonment, Just three days after his arrest, on October 27, the People's Majlis notified him of a motion to remove him, and gave him 14 days notice, as per Article 100 of the constitution. The provision guaranteed the vice president the right to defend himself in a sitting of the People's Majlis.
Govt tampered with the Majlis voting system & are pushing for a roll call vote. Majlis SG must fix system; ensure vote proceeds as per rules

— Mohamed Nasheed (@MohamedNasheed) March 27, 2017
5. On November 4, President Yameen declared a state of emergency. In the same decree, he went on to reduce the 14-days notice on impeachment to seven days. The shortened 7 day period was illegal as the vice president's right to defense cannot be restricted due to any reason. Even after knowing all the laws , VP Adeeb's impeachment was carried out.
6. It is not the first time that speaker Maseeh was unable to protect the Maldivian Constitution in Majlis. He himself had exploited the laws and changed them according to the needs of President Yameen. In July 2015, The parliament had changed its standing orders to fast-track the process of impeaching the Vice President. The new rules state the Majlis can vote on the Vice President's impeachment without an investigation by a select committee.
13 opposition MPs removed from the chamber of Majlis by force. #SaveMaldives pic.twitter.com/sT0TB7eBNu

— Maldives Voice (@MaldivesVoice4) March 28, 2017
7. Abdullah Maseeh has time to time showcased his biasness towards PPM by not taking any action against the misbehavior of MPs like Ahmed Nihan in Majlis. Not only this the present speaker has also allowed officers other than MPs to enter the Majlis in wee hours of the night. According to RaajjeMV the Chief of Defence Force, Major General Ahmed Shiyam, had entered the parliament office late Sunday night. Before No-confidence vote against the speaker of parliament.
8.

And the recent incident has proved Abdullah Maseeh as a threat to the democratic system of Maldives. On March 08 2017,Opposition lawmakers had submitted a no-confidence motion to remove Speaker Abdulla Maseeh Mohamed. During the debate over the Speaker on 27 March, 13 MPs of opposition were dragged ruthlessly out of the parliament. Citing this incident All of the other opposition-aligned MPs then walked out of parliament in protest.
Media also barred from observing the parliament session today. We appeal to the #parliament and @MNDF_Official to allow for transparency.

— Mv Democracy Network (@MDN_mv) March 27, 2017
9. The opposition MPs had raised their voice against the tempered voting machine in the Majlis. Even when all the opposition walked out, the impeachment process was carried on and the motion against Speaker Abdulla Maseeh Mohamed, was defeated by 48 votes against none in an 85-member parliament.
10.

During this period MP Ahmed Nihan called for a vote against the speaker to be conducted via a 'roll-call', rather than the normal electronic voting system .A roll-call vote means MPs have to say, one by one, whether they are for or against a motion. A roll-call considerably raises the stakes for pro-government MPs who defy the ruling party whip. This was another attempt to pressurize MPs of PPM who want to vote against Maseeh.
At present, the no confidence motion was rejected by Majlis even though only one fraction of MPs voted for it. It was clear early on Monday morning that President Yameen had no intention of allowing parliamentarians a free or fair vote. Riot police had barricaded the parliament and refused to allow members of the press, NGOs or the public from attending. Live feed of the parliamentary proceeding was cut off during the most of the session.
Yameen's administration has arrested most opponents who might challenge him in 2018. And with this recent hijack of Parliament by PPM goons it is clear that speaker Maseeh is a special puppet of President Yameen. The above points in itself are enough to understand the urgency of Speaker Maseeh's removal as the defender of democracy in Majlis.
Also Read
No-confidence motion defeated – as it happened
Defence Chief goes to parliament office late Sunday night
Opposition MP faces off armed assailants
Why the Maldives Vice President's Impeachment is Illegal
Vice president labels impeachment a 'constitutional coup'