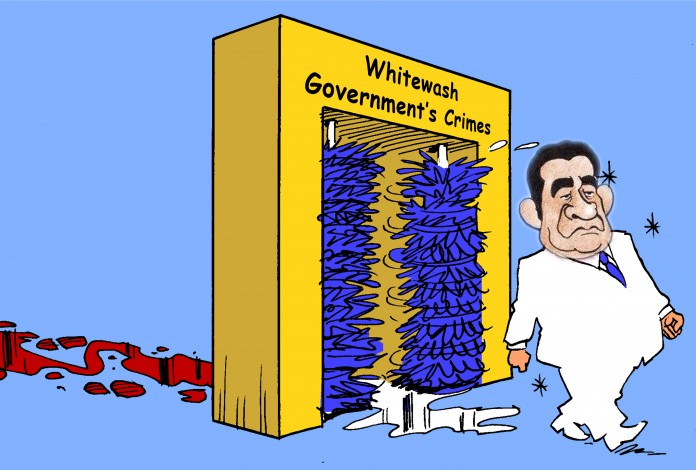 British MPs' defense of Maldives regime a "well-orchested" public eyewash!!!
Earlier in 2016, three British MPs who defended President Abdulla Yameen's regime against calls for sanctions during a government-sponsored visit to the Maldives had been accused of "deliberate manipulation of facts" by the opposition. Sir David Amess, the chair of the interest group, British All-Party Parliamentary Group for the Maldives, said that the Maldives has been portrayed in a "rather unfair fashion."
The Maldivian Civil Society in a

scathing response

had said it was "worried over the deliberate omission" of concerns it had highlighted to the APPG over corruption and threats to media and civil society groups. They accused the APPG "may find it difficult to state anything detrimental to their sponsors, irrespective of their findings." It called on the delegation to fully disclose the details of their week-long visit, including the details of the arrangements made by the government.
Ian Paisely, an MP of the Democratic Unionist Party, and Mark Menzies, a tory MP who is not a member of the APPG, accompanied Amess. "Yes they paid for it," Paisley confessed when asked on the government's sponsoring their visit. Confession clearly indicates that APPG are in every way in corrupt Government's pocket. Also the report submitted by APPG was way further from the truth. The fabricated report also clearly illustrates that the three MPs were definitely not "independent", as expected out of them. APPGs definitely a 'dark space' for covert lobbying and British MPs' defence of Maldives corrupt regime a "well-orchested" eyewash to fool the Maldivians.
Irrespective of the whole controversy, the veteran Tory MP Sir David Amess and the unionist MP Ian Paisley Jr spoke out to defend the actions and reputation of dictator ( Yameen)of the Maldives as was feared by many Maldivians. APPG's 550-plus all-party parliamentary groups are being used by Government as business to reach global lawmakers and influence their policy. Amess is chair of the all-party British-Maldives parliamentary group and has visited the island on many occasions for at least nine years.
At a press conference, both MPs have already confessed that their week-long trip had been funded by the high commission of the Maldives to turn the report in favor of Maldivian evil and corrupt regime. The whole controversy was staged to bluff people of Maldives regarding the state of democracy in the Island Nation of Maldives. Amid the whole APPG report controversy, Britain's lobbying tsar, Alison White, has launched an inquiry into all-party parliamentary groups (APPGs) and is primarily concerned with the ability of their secretariats to gain access to ministers and civil servants. But campaigners say they are also worried that parliamentarians could remain open to influence from foreign governments and private firms.
An analysis by the Guardian claims that APPGs have received millions in donations since the beginning of 2015 and the favoring of reports in lieu of Government donations has now become a common occurrence.
On earlier occasions also Yameen regime has used the same "modus-operandi" by hiring Washington based Podesta Group, for a huge sum of US$300,000 to "whitewash their crimes," against Human Rights and Media Freedom.
The corrupt regime of Yameen is abusing the reports of international organizations to advocate on its behalf amidst calls for "democratic-style of governance", declining media freedom and increasing Human Rights violations in Maldives. These reports are being used to put on the garbs of "Democracy" on what actually is a Dictatorship-style of governance of present corrupt regime. Yameen is a dictator who is using nations money to buy reports in his favor to create an illusion of "Democracy" for Maldivians who are suffering under autocratic rules of President yameen's regime.
Must Read-
Podesta Group hired to "whitewash" government's crimes