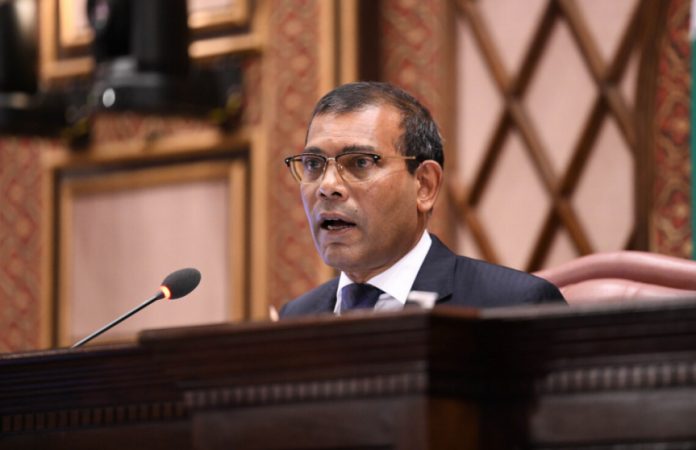 Former President and parliament speaker Mohamed Nasheed on Wednesday published a letter via his twitter.
— Mohamed Nasheed (@MohamedNasheed) March 16, 2022
The contents of the letter suggested that the parliament needs to amend changes for the composition of People's Majilis— he stressed on the importance to set a limit for parliamentary seats. He reasoned that this was because of the number seats, increasing every five years and the issue needs to be resolved. The parliament consists of 5,000 people, each member represents a particular region or islands.
"It is important to change the Constitution to determine a way to limit the number of seats," he said.
Nasheed stated that the parliament is composed of separate geographic constituencies. He further noted that this was leading to the shortage of parliamentarians who can advocate and represent the entire Maldivian population, instead of just their individual constituencies.
Since the politics of Maldives is based on multi-party system, he suggested that it would be best to have national list parliamentarians who are elected from a party list. He also suggested have quota for women on the list.
While many participated in the conversation under his twitter post, some showed views of disagreement.
Their is a difference between getting majority of the votes vs getting plurality of the votes… What ever this wall of text is proposing it should be out to a public referendum should you push constitutional amendment with out our consent you and your party will pay dearly https://t.co/OpZ6Pjp2jZ

— Dr. Nash Rafeeq (@nashrafeeg) March 17, 2022
I don't think its fair for you to talk on behalf of the Maldives. On this subject. You could talk on behalf of the parliament yes.

— Y (@Raajjemv1) March 17, 2022
Whereas, some showed support
Well said 100% agree with you Sir @MohamedNasheed

— Ahmed Shareef 🇵🇸 (@Titanshareef) March 16, 2022
agreed. a national list is very necessary https://t.co/c1VLEnVNd9

— Ibrahim Maahil Mohamed (@MaahilMohamed) March 16, 2022
ކޮންމެ 5000 މީހަކަށް މެންބަރެއް ހުންނަނަމަ އެމެރިކާގައި 65,800 މެމްބަރުން ހޮވަންޖެހުނީ ހެވެ، މިއީ އެހެން ގައުމުތަކުގައު ކަންކުރާ އަދަދެއް ނޫނެވެ، ރަގަނޅު ހަރަނދުކުޑަ ގޮތަކީ އަތޮޅު ކައުންސިލުން އަދި އަންހެނުންގެ ޖަމްއިއްޔާއިން މެމްބަރެއް މަޖްލިސްއަށް ލުމެވެ.

— Ahmed Zubair Adam (@adam_zubair) March 17, 2022
Speaking at the MDP National Assembly, Nasheed also noted several amendments that need to be brought to the constitution.