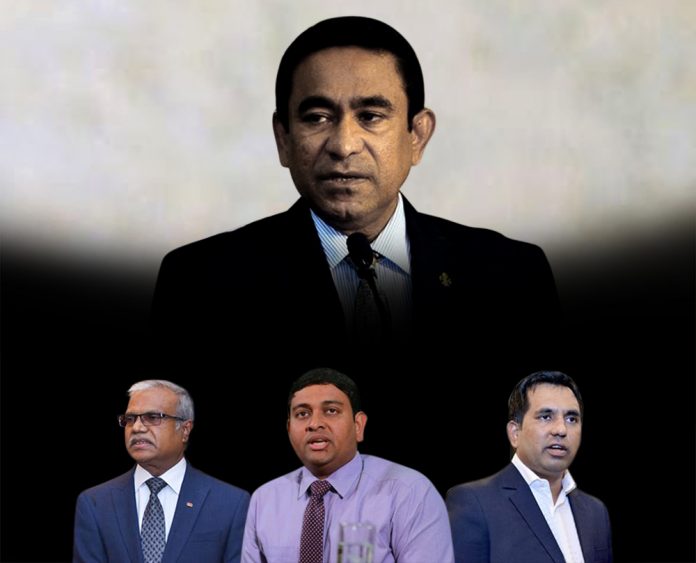 Pakistan's PM refuses to support while King Salman refuses to meet the Maldivian Envoy.
The Maldives plunged into political turmoil last week after President Yameen refused to obey a Supreme Court order clearing former President Mohamed Nasheed of terror charges and freeing eight top opposition leaders. Yameen instead imposed a 15-day emergency and detained two top judges, including the chief justice.
Despite the pressure from the international community to lift the emergency, Yameen Government decided to send special envoys to friendly countries like Pakistan, China and Saudi Arabia. Though these friends in need doesn't seem to be the friends in deed of Pres. Yameen.
Maldives Foreign Minister Dr Mohamed Asim is on a three-day official visit (February 8-10) to Pakistan as the special envoy of Maldives president. The significant development came as Maldives reached out to countries in the Asian region, Pakistan in particular, to garner support after the recent proclamation of emergency by Maldivian President Yameen Abdul Gayoom. He is a part of a delegation that the Maldives' president has sent to friendly nations to brief them on a political crisis in the Indian Ocean nation that spurred the imposition of a state of emergency.
Though, in a turn of events , Prime Minister Shahid Khaqan Abbasi on Friday turned down the Maldives' president request for assistance, saying Pakistan firmly believes in the policy of non-interference and would continue to adhere to the principles of the UN charter in this regard.
Mohamed Shainee Minister of Fisheries and Agriculture who is on an official visit to Saudi Arab as the special envoy of Maldives president also faced the same reaction but in a more harsh manner. When Shainee made a request for a meeting with Mohammad bin Salman then the Crown Prince of Kingdom of Saudi Arabia refused to meet him. The Fisheries minister was not even allowed to have a phone call with him. Its like Saudi Arabia Shut its door on the face of Pres. Yameen's friendship.
Maldives embattled President Abdulla Yameen — who refused to implement orders of the Supreme Court and declared a state of Emergency on February 6 — sent representatives to traditional allies Pakistan, Saudi Arabia and China to drum up support amid the political turmoil.
The third one, Minister of Economic Development Mohamed Saeed, an envoy of the Maldives President met the Chinese Foreign Minister to seek support amid a raging political crisis threatening stability in Maldives. Behind the closed door meeting he asked China to provide 'security' for its investment in Maldives , a thinly veiled request to troops for suppressing the protest. China refused. The Chinese Foreign Ministry reported on its website that Minister Wang Yi met Maldivian Finance Minister Mohamed Saeed on Thursday and told him that China believes "the archipelago should return to normalcy in accordance with law". Wang said the government of the Maldives and other implicated parties should resolve their differences through dialogue, adding that China respected the principle of not interfering in the internal affairs of the other countries .
Now with all the doors locked, the special envoys will be returning empty handed ( we will keep a close watch on Finance Minister Mohamed Saeed's hands though as he returns from China). The pressure from the international Community is increasing day by day and with no support from allies , how long will Pres. Yameen's willfulness last?