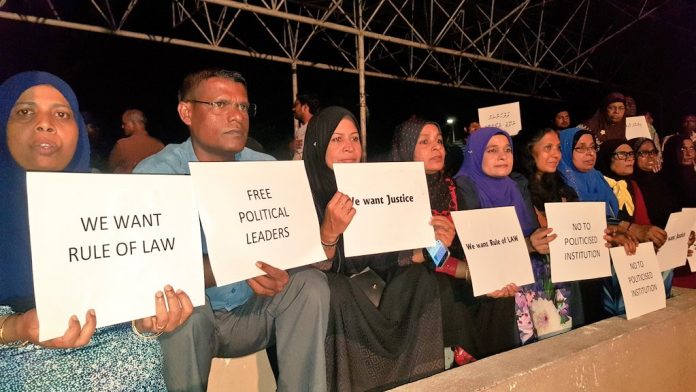 These are the latest reactions of Powers all around the world.
Since independent Raajje TV broadcast this impromptu interview with me & diplomatic colleagues yesterday, it has had to suspend regular broadcasts to ensure the safety of its staff following multiple threats.

The #Maldives government needs to do much more to protect free speech. https://t.co/dNY6hOK8Ef

— James Dauris (@JamesDauris) February 9, 2018
Statement from the High Commission of Canada on the Situation in Maldives. pic.twitter.com/hhQXLcBx79

— Canada in Sri Lanka (@CanHCSriLanka) February 8, 2018
Raajje TV Shutdown:
The crackdown on democracy sadly continues in the Maldives. I urge the Maldivian government to respect the democratic principles now: Rule of law, freedom of press, association and assembly. https://t.co/geH3zFLJY4

— GermanEmbassyColombo (@GermanyinSL) February 9, 2018
Sadly the Maldivian Govt refuses dialogue: today with my UK/EU colleagues we requested to meet the President/Cabinet ministers and speaker of majlis to discuss our concerns on the current situation. Our requests were unfortunately refused. That is surely not the way forward.

— GermanEmbassyColombo (@GermanyinSL) February 8, 2018
Keep sharing the petition and keep writing about it on social media. Let's make our voices heard loud to Save Maldives.
International Community must take strict actions against Yameen Government in Maldives