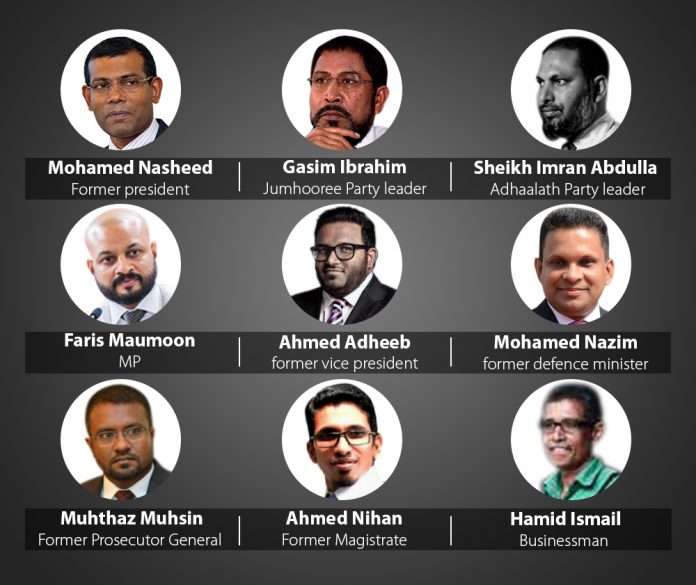 The Supreme Court has ordered the immediate release of political prisoners including the former President Mohamed Nasheed and former Vice president Ahmed Adeeb.In a landmark statement issued on Thursday night the Supreme Court said the prisoners were free until fair trials could be conducted without undue influence. The court said the guilty verdicts against the politicians had been influenced by the government.
The ruling also reinstated 12 lawmakers who had previously been declared as having lost their positions for switching allegiance to the opposition.
After the Supreme Court's decision to release political prisoners Hundreds of people celebrated in Male by waving the country's flag .
The list of political prisoners
1.Former President Mohamed Nasheed 2.Jumhoory Party leader Qasim Ibrahim
3.Adhaalath Party leader Sheikh Imran 4. Former defence minister Mohamed Nazim 5.MP Faris Maumoon 6. Former vice president Ahmed Adheeb
7.Former prosecutor general Muhthaz Muhusin 8. Former Magistrate Ahmed Nihan   9. Businessman Hamid Ismail
What are the reactions of Leaders over the The Supreme Court decision of releasing political prisoners .
Atul Keshap -Ambassador of the United States of America to SriLanka and Maldives
I welcome the decision by the #Maldives Supreme Court to order the release of all political prisoners and ensure their fair treatment under law. I urge the Government and security services to respect this ruling, which bolsters #democracy and #RuleOfLaw for all Maldivians. 🇲🇻

— Atul Keshap🇺🇸 (@USAmbKeshap) February 1, 2018
Zac Goldsmith British politician and Member of Parliament for Richmond Park
Nasheed is a great leader. This is good news. https://t.co/o9VJbadLEZ

— Zac Goldsmith (@ZacGoldsmith) February 1, 2018
Bryce Hutchesson Australia's High Commissioner to Sri Lanka and Ambassador to the Maldives.
Decision by #Maldives Supreme Court requiring release of opposition leaders a landmark step for #democracy in 🇲🇻- important that #RuleOfLaw is upheld, and independence of judiciary and legislature is respected

— Bryce Hutchesson (@AusHCSriLanka) February 2, 2018
James Dauris British High Commissioner to Sri Lanka and Ambassador to the Maldives
I know yesterday's decision by the Supreme Court that reasserts the independence of the judiciary will be widely welcomed in #Maldives.

Friends around the international community will be hoping that the government complies with the Court's ruling quickly and unconditionally.

— James Dauris (@JamesDauris) February 2, 2018
Omar Waraich Deputy South Asia Director,Amnesty International
Maldives court throws out case against Mohamed Nasheed @AJENews https://t.co/EFn6skVYUL

— Omar Waraich (@OmarWaraich) February 2, 2018
Mohamed Nasheed Maldives first democratically-elected President
Welcome tonight's SC ruling calling for the immediate release of political prisoners and the restoration of their civil and political rights. President Yameen must abide by this ruling and resign. Urge all citizens to avoid confrontation and engage in peaceful political activity.

— Mohamed Nasheed (@MohamedNasheed) February 1, 2018
Maumoon Abdul Gayoom Former President of Maldives
I call on @MvDefence @PoliceMv and all state organs and agencies to respect and abide by tonight's Supreme Court ruling. It is absolutely clear and unambiguous. It must be enforced in its totality!

— Maumoon Abdul Gayoom (@maumoonagayoom) February 1, 2018
Hassan Ugail Professor of Visual Computing
Dictators do fall, they always do.

— Professor Ugail (@ugail) February 2, 2018