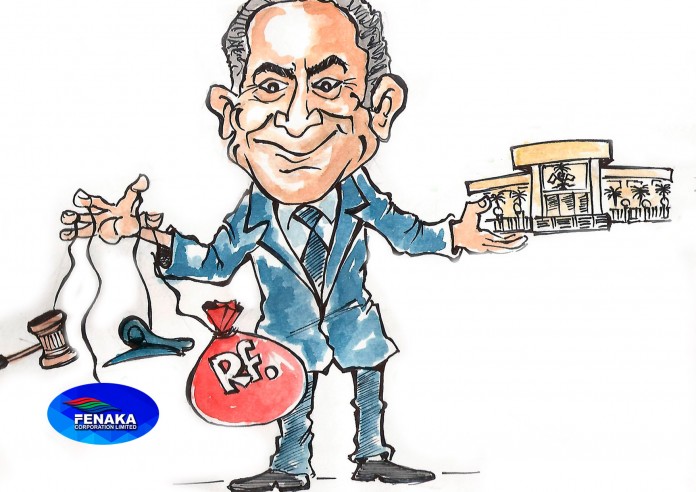 Ministers of President Abdulla Yameen's cabinet, ruling party lawmakers and heads of state-owned enterprises hit Malé's streets, outfitted in pink and white t-shirts emblazoned with the words "President Yameen 2018" and armed with clipboards and pens to canvass support for the Progressive Party of the Maldives.
On Friday, Yameen inaugurated a new party headquarters he had designed. There, Home Minister Azleen Ahmed declared the PPM to be "the most popular party in the world". All the while, the state TV has provided live coverage of the ruling party's events and extolled the president's development agenda in the midst of rumors that civil servants have been forced to become members of the party.
State utilities Fenaka Corporation, has announced that they had recruited 2,300 members to the ruling Progressive Party of the Maldives (PPM). The tweet posted by the Corporation claiming as such, comes at a time when President yameen has been accused of abusing state resources, assets and civil employees for political gain.The initiative to bring in more members to the Party was spearheaded by First Lady Fathimath Ibrahim and was held on Saturday. Many employees of Fenaka had taken an active role in Saturday's events.Fenaka is a Corporation fully owned by the state. The head of Fenaka Corporation, the government-owned electricity, waste and sewerage utility, has offered to give jobs to opposition candidates in the upcoming local elections if they withdraw their candidatures.
State employees were given the sole option of joining the Party or risk losing their jobs.

Ruling PPM has begun an intensive program to amass 150,000 members. Sources have stated that recruiters have been promised Bangkok trips and cash bonuses if they reach the target.
Aminath Nadira, Gayoom's deputy, meanwhile characterised the PPM's apparent strength as "a façade." "That is all a lie  When they have so much power, they can put on a show," she said, and reiterated that Yameen was maintaining his hold on power by bribing and coercing lawmakers and threatening to dismiss members of watchdog bodies. "If a free and fair election is held, there is no way corrupt Yameen can gain even 15 percent of the votes,"