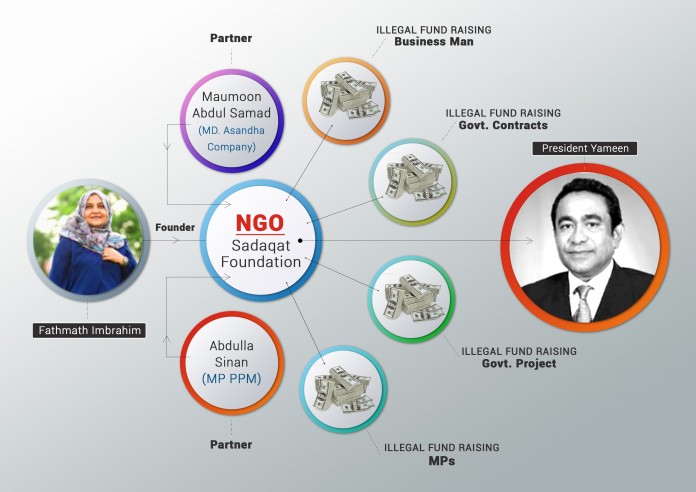 Hugely controversial President of Maldives, Abdulla Yameen, has apparently lost the respectability among Maldivians, who are traumatized by the series of corruption, murders, diminishing human rights, no freedom of expression, no free media, rising food prices and many such basic issues that have been creating havoc on Maldivians.
As recent development of Maldives, first lady has taken full control of PPM (Y). Fathmath Ibrahim, wife of controversial President Yameen, is trying to make over the broken and shattered public face of Yameen by using illegal money laundered through her fake charitable foundations for putting dust in eyes of Maldivians.
First Lady Fathmath Ibrahim, founder of charitable organization Sadaqat Foundation, registered as NGO in 2015. Fathmath Ibrahim formed her NGO in partnership with MAUMOON ABDUL SAMAD and ABDULLA SINAN.
In recent development, MAUMOON ABDUL SAMAD also happens to be appointed as Managing Director for Aasandha Company . Mr. Maumoon was previously registrar to Jumhooree Party, however, he is presently a member of the Progressive Party of Maldives along with Managing Director for Aasandha as revealed above.
Also in same recent developments, ABDULLA SINAN is a Majlis Member of PPM Machangoalhi South constituency along with being the Managing Director (MD) of Sadaqat Foundation. She also happens to be wife of another MP of PPM from Dhangethi constituency, Ilham Ahmed, who is close to First Lady Fathmath Ibrahim and son of Sheesha Ahmed (Sheesha Ahmed is a rich businessman in 'Import and Supply' of high-end motor bikes).
Illegal Fund Raising
The main source of funding for Sadaqat Foundation is showed on papers as contributions and donations from some MP and rich businessmen. The remaining source of fund is shown as overseas donations from UAE and Saudi Arabia. Well, that is what is shown on papers, but in real it is learned from our investigation that these MP fundings, Businessmen fundings and Overseas fundings are illegal commissions for awarding (selling) of top Government positions, Government contracts and Government projects.
It was also exposed during our investigation that the illegal commissions from Aasandha (which is a state owned company that has full control over the Government Medical Insurance established to administer and manage Government health insurance scheme – "Husnuvaa Aasandha", a health insurance without a ceiling protection limit) are used for illegal funding of Sadaqat Foundation activities.
Modus-Operandi
Aasandha, as a company, has empaneled hospitals across the various neighboring south Asian countries. These empaneled hospitals are given various specials favors while treating Maldivians. Our investigative journalist met with one such overseas medical tourist and were shocked to learn the whole modus-operandi of this hereby exposed vicious cycle of money laundering.
The overseas medical tourist (name and other details of whom are being kept anonymous as a measure to ensure safety) went to an empaneled private hospital in one of our immediate neighboring country for eye's retina treatment. He was given huge discount if he was to agree on signing on inflated medical bills for submission. The submitted bills were more than 5 times of original medical expense and the discounts offered were little less than 50%.
The overseas private hospital guaranteed hassle free and smooth clearance of all inflated bills and claimed to be known among top political circle of ruling party in Maldives. The overseas private hospital official further claimed that the Government officials in Maldives are given their due and fixed commissions to keep the whole modus-operandi active and smooth.
Our source reluctantly agreed and availed the unofficial and illegal discounts to save around 50% of her expenses and was surprised when the submitted inflated bills were cleared in Maldives without any hassle as was already claimed by the overseas private hospital's representative. The source of this expose specially emphasized in keeping his name and other details of the story anonymous as he could be prosecuted under Maldivian Laws for the crime.
Accusations like these were also made on Aasandha corporation, when the corporation footed the bill for First Lady's "Sadaqah Foundation" for organizing circumcision camps last year.
Maldives has the highest expenditure on medical care, among all South Asian countries. President Yameen, when on stage says, "Government's goal is to upgrade the Maldives' healthcare system to top class level, through the Husnuvaa Aasandha mechanism but in reality the truth is far beyond…
This whole scheme has now been re-designed as a vicious cycle of money laundering from overseas medical treatment. The funds from illegal commissions from overseas medical tourism are recycled back to First Lady Fathimath Ibrahim in forms of donations and contributions to her registered NGO, "Sadaqat Foundation". First Lady Madam Fathimath Ibrahim is misusing her Government connections to launder money from medical tourism. First Lady is diverting nation's funds to her NGO by abusing loop-holes and irregularities in implementation of the schemes that exist and are actually meant to be for the people of Maldives.
First Lady Fathimath Ibrahim, in the meanwhile, has decided and publicaly announced campaign for the Presidential Elections 2018 with a special initiative titled"Feshun" ("begin") to reboot declining and on the verge of extinction public face of President Abdulla Yameen Abdul Gayoom. The whispers in the air and say that the First Lady Fathimath has become increasingly active in the front lines of the ruling party as President Yameen has lost trust on all officials party politicians around him.
Our reliable inside source informed that Abdulla Yameen, President of Maldives and leader of the ruling Progressive Party of Maldives (PPM) is also little worried over loosing his grip over ruling party's internal affairs and over strengthening of First Lady Fathimath Ibrahim grip in leading the party.
Another such case was of "Fenaka Corporation", the government-owned electricity, waste and sewerage utility company, had released MVR 50,000 for an exhibition organized by First Lady Fathimath Ibrahim and also the head of Fenaka Corporation, has offered to give jobs to people in the upcoming local elections for gaining support for PPM(Y) in local council elections as well as general elections 2018.
Earlier too, a private association of Abu Dhabi had made the donation USD 24,000 to aid Waqf Fund (managed by the Ministry of Islamic Affairs) in conducting various religious programmes in mosques during the last Islamic holy month of Ramadan. ACC files elaborate that the donation agreement stipulated that USD 12,000 of the charity be given to First Lady's "Sadaqat Foundation" for publicaly undisclosed reasons.
Joining the dots everyone can visualize the previously unexposed vicious cycle of money laundering through medical tourism hollowing the nations funds and filling personal pockets of President Yameen, First Lady Fathimath Ibrahim, other ruling party members and their businessmen friends, while Maldivians suffer under this corrupt evil dictator-style regime of Abdulla Yameen.