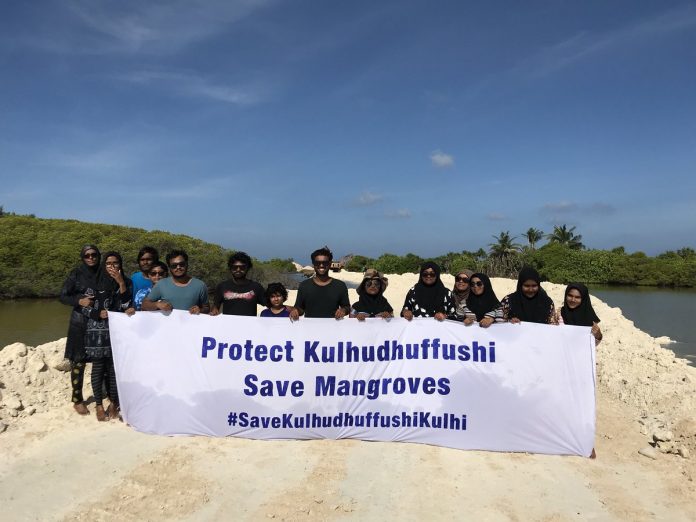 Kulhudhuffushi is the capital of Haa Dhaalu Atoll administrative division on Thiladhunmathi Atoll in the north of the Maldives. Kulhudhuffushi is known as the "Heart of the North". The island is famous for its mangroves (kulhi), after which the island itself is named.
It is 7th largest mangrove in the Maldives. It is home to 8 species of true mangrove plants, 42 associated plant species and supports the entire ecosystem of the island.

The white clay mangroves,are home to endangered species and serve as a natural defence system against tsunamis. 

Mangrove ecosystem also provide livelihood activities for over 400 women and their families in the island .

Developing an airport on Kulhudhufushi, the main population hub in the northern atolls, was a campaign pledge of President Yameen made in August 2013, despite an international airport located on the nearby island of Hanimadhoo, a 25-minute speedboat ride away.
2,500 trees  cut down for  the construction of an airport .

450 Families whose homes will be demolished to make way for an airport .

Reclaiming the Kulhudhufushi mangrove to develop an airport on the northern island will cause lasting damage, an Environmental Impact Assessment for the US$11.4 million .

The wetland area surrounding the Kulhi acts as a natural catchment for flood mitigation. If proper drainage is not established, the area will experience flood impacts.
(EIA report by Dr Zahid Hameed)
The Kulhudhuffushi ropemaking industry engages 404 families and is worth MVR9.3 million .                                                
Kulhudhuffushi received royal acclaim for its traditional coir rope making industry during the reign of Sultan Mohamed Fareed Didi. If government destroys mangroves for the construction of an airport this would put a full stop on our livelihood as well as our tradition". – 51-year-old rope weaver
Maldives is extremely vulnerable to climate change and mangroves play a key role in protection of coastal ecosystems. They protect coral reefs and reduce the damage from natural disasters such as Tsunamis and tropical storms.
Yameen's government receives millions of dollars each year for climate change mitigation and adapta

tion measures. Just this year, USD 23 million was received by the Government of Maldives from the Green Climate Fund.
It is hypocritical to actively destroy the most critical ecosystems while receiving major climate funds.  The Government should therefore reconsider the development of the airport by reclaiming the mangrove of Kulhudhuffushi and causing irreversible damage to island ecosystem.
"Read also" –  Maldives planning to convert mangroves forest to an airport

EIA warns of lasting damage from reclaiming Kulhudhufushi mangrove