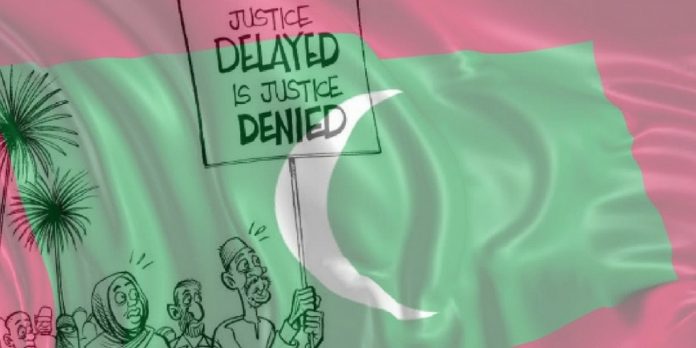 Maldives Judiciary Undermining the Judicial reform

30% of Maldives Lawyers suspended

Judicial System being influenced by the President

Democratic gains in the Maldives have eroded Under The current Regime
Recently, The Department of Judicial Administration have suspended at least 54 lawyers and have charged them with contempt of court for filing a petition demanding the rule of law in the country . The lawyers affected by the ban include the entire legal team of exiled opposition leader Mohamed Nasheed, the lawyers of other dissidents, a former attorney general and several opposition lawmakers. This unfortunate decision by the Judiciary has again brought Maldives in the lime light for all the wrong reasons. Democratic Governments all around the world are once again shaming the Yameen Regime for sabotaging Democracy in Maldives. The United Nations High Commissioner for Human Rights said he was concerned by reports of violations of the right to a fair trial in the Maldives and allegations of political bias within the legal system.
Democratic gains in the Maldives have eroded under the leadership of President Abdulla Yameen, who has also conducted a crackdown on the press. 30 percent of all criminal court lawyers and included counsel for opponents of the government such as three lawmakers recently stripped of their seats by the electoral commission. The opposition says those moves and recent arrests of some of its members are politically motivated.
Leaders all around the world are speaking up against the tyrant regime in Maldives. This what they are saying:
More than 50 lawyers suspended in #Maldives for calling on govt +judiciary to uphold rule of law-another step back for #democracy & rights

— Bryce Hutchesson (@AusHCSriLanka) September 11, 2017
Suspension of 54 lawyers in #Maldives reinforces rather than allays concerns re:independence of the judiciary-an essential for any democracy

— Canada in Sri Lanka (@CanHCSriLanka) September 12, 2017
Suspension of >50 lawyers in #Maldives for calling for Constitution to be upheld is another sorry step. Debate is healthy in every society. pic.twitter.com/FqEAIGmOL8

— James Dauris (@JamesDauris) September 11, 2017
Suspending 54 lawyers isn't the right way to address issue of 'obstructing independence of the justice system'. #EU4HumanRights #Maldives

— EU to the Maldives (@EU_Maldives) September 11, 2017
Maldives' judiciary suspends 54 lawyers for trying to submit a petition calling to uphold the rule of law.

— Husnu Al Suood (@hsuood) September 10, 2017
SC suspends 54 lawyers for raising concerns on lack of rule of law. Intl community must impose targeted sanctions against the Chief Justice.

— Mohamed Nasheed (@MohamedNasheed) September 10, 2017