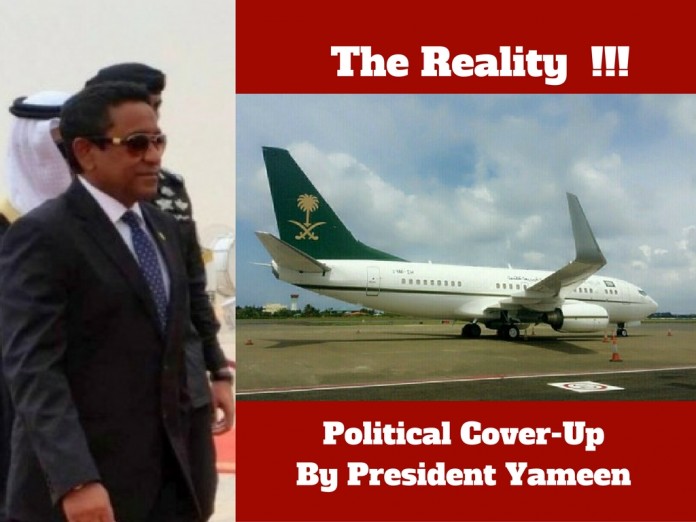 President Abdulla Yameen has on Monday departed to Saudi Arabia on an official trip. "During these meetings, discussions will be focused on further strengthening the long existing ties between the brotherly nations – especially in terms of investment, infrastructure development, and exploring additional opportunities of mutual benefit," said the President's Office.
The departure of President Yameen accompanied by a high level delegation to Saudi Arabia was kept confidential and a top secret till the time RaajjeMV broke the news that President Abdulla Yameen had unexpectedly left the country via a Saudi private jet. On confrontation spokesperson at the President's Office, Ibrahim Muaz Ali said that the Office will "keep providing updates regarding President's trips as per normal procedure". "You will know what there is to know," said Muaz.
The official international visit of President Yameen seems like any normal official trip to strengthen the bilateral ties between two nations but tip from a credible source, who wished to remain anonymous, indicates that the official trip is a cover-up for mending damaged pillars of Saudi-Maldives bilateral relations. The drift basically caused by President Yameen's divergent political views and practices that offends Saudi Arabia's King Salman bin Abdul Aziz Al-Saud and other senior ministers of the Saudi government.
Detailed investigation in the case revealed many astonishing facts. The damage to the Saudi-Maldives bilateral ties are so severe that the M.P.s and other Government officials of Maldives who went for 17 day Hajj Trip to Mecca were not even given proper hospitality during their stay in Saudi Arabia. Only one minister of the Saudi government, Bandar Al Hajjar, met the high level 14 member delegation to Saudi Arabia. They were given economy class air tickets from Male to Doha and from Doha to Jeddah. From Jeddah the delegation travelled to Mecca by bus. On the return journey, they travelled by bus from Mecca to Medina followed again by economy class air travel from Medina to Jeddah, Jeddah to Doha and from Doha to Male. The delegation felt extremely insulted by not even being provided direct flight for the to and fro journey.
To add to the insult, the delegation was made to stay in tents for the initial 5 days and later they were given shared accommodation. Four M.P.s had to share one room. Only the speaker was given a separate room. The reliable source told that even the rooms provided were very sub-standard and did not even have any flush-facility in the toilet. Even though the VIP service was available, M.P.s of Maldives were not provided those services.
Source was not sure why exactly the 14 member high level delegation were given such poor treatment but did not rule out rising tension between the two governments as one of the major reason behind the ill treatment.