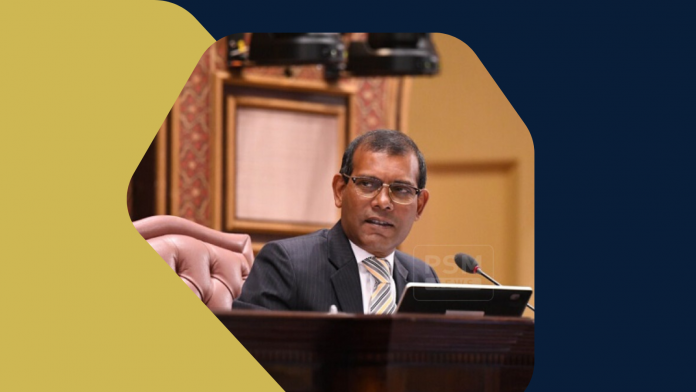 The Parliament of the Maldives has passed the government proposed amendment bill to increase the tax rates from January 2023. The amendment bill was passed with 55 votes in favour and 26 votes against.
This follows after the Parliament concluded the previous two sessions without taking any votes. This led to some MPs relaying dissatisfaction over how Speaker Mohamed Nasheed was handling the sessions.
Parliamentary group leader MP Mohamed Aslam said that the sitting was adjourned in violation of regulations. He says the bill had been ready for two-three days, and that what happened was outside standard protocol. Whereas, Nasheed defended saying that the parliamentary sitting was adjourned in line with stipulated regulations.
An uproar erupted at the parliament floor when vote was asked for the bill. Some members had stood up, making loud noises. Opposition Naifaru MP Ahmed Shiyam and Mahibadhoo MP Ahmed Thoriq (Tom) and members supporting Parliament Speaker Mohamed Nasheed in MDP's feud had protested during the voting.
One of the MPs alleges that Speaker Nasheed abused the power of his chair by involving himself directly to the debates. Said, he favors his favorite MPs by giving them more time to put their points across, while cutting off others who had a different say in it.
Everyday is a test of patience fi MPs as we try to tolerate ur disregard for house rules. U let ur fav MPs speak for as long as they want & u cut off the mic when an MP says something u don't like. Then u share ur views on the matter & don't let the MP finish wht they were saying

— 𝐌𝐏 𝐑𝐨𝐳𝐚𝐢𝐧𝐚 𝐀𝐝𝐚𝐦 🎈 (@Roxeyna) November 15, 2022
Its been reported that many of the MPs displeased with Speaker Nasheed, went to meet the President yesterday. They put their concerns before him and discussed on raising a 'no confidence' motion against the speaker.
Just recently a case against Nasheed was filed with Supreme Court seeking for his dismissal. The case was submitted to the court by Ahmed Thalib, accusing the former Maldivian president of violating his oath of office by representing Sri Lanka at the COP27 Summit in Egypt. The Supreme Court has since rejected this petition.
Supporters of Nasheed's faction has expressed that the impeachment could serve to be beneficial for the MDP leader if it is carried through. They have said that Nasheed will most definitely go on to win the primary congress if this happens.
MDP's two factions remain divided over the bill.