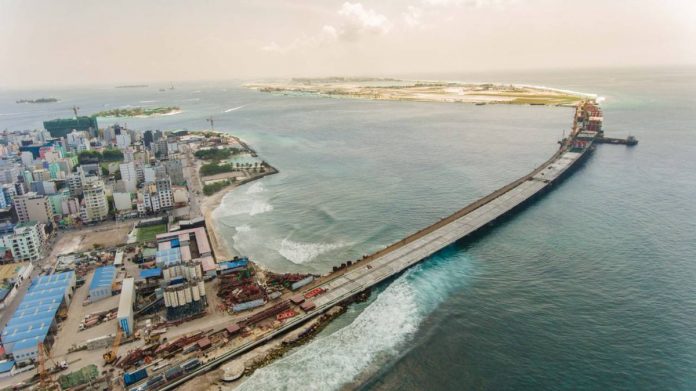 It has been reported that a Chinese company is planning to flee from Maldives leaving behind overdue payments.
The company in question is Hunan Oubo Technologies Co Ltd, the company involved in building the country's first overwater bridge between the capital Malé and the airport island.
The creditor has told that they had asked for the due payments to be paid but the Chinese company refused to pay the rent for their accommodation. It was stated that the company vacated without any notice and unpaid utilities, damaging the property and did not fix, neither pay for the damages.
Many other locations that has been vacated by this Chinese enterprise have also been severely damaged. Some has even spend MVR 1 million on repairs alone.
The office where the firm was set us was also deserted. Its been reported that the rent, electricity bill and repair fees for the office was also unpaid.
Civil cases against the company has been filed but the creditors and parties involved with the Chinese company fears that Hunan Oubo Technologies Co Ltd might escape from the Maldives, leaving their dues unpaid.
The company has also been reported in the past for its activities. In 2019, a vessel belonging to Hunan Oubo Technologies without registration and flag was found anchored near Laamu Hithadhoo taking sand from Male to Dubai. It was confirmed that no permit was issued which made it an illegal act.