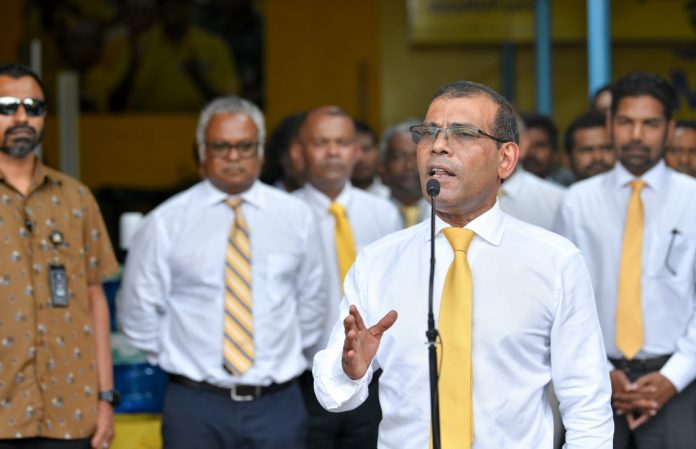 Ex President Nasheed has accused the police of carrying photos and videos of 43 people in a blackmail ring

Videos were leaked with the involvement of some influential government ministers.
Maldivian Democratic Party (MDP) marked its 17th anniversary on Sunday. Speaking on the occasion MDP's leader and Parliament Speaker Mohamed Nasheed said MDP is the party that revolutionized the Maldives.
He also addressed the past week's controversial mishaps that has taken the shook the nation. First it was the Yoga Day event being stormed by rioters, second it was the leaked video of his brother, Nazim Sattar engaged in homosexual act, followed by the leak photos of senior MDP leaders engaging in sexual activities.
In a message sent to the main-ruling Maldivian Democratic Party (MDP) 's National Council members' Whatsapp group on Sunday, Nasheed alleged that the police were involved in releasing the videos. He said he was aware of the police involvement and assistance in taking the videos and photos. He further said that his efforts to reform the police service were unsuccessful.
However, the police denied the allegations.
Nasheed further said Nazim's case is not being investigated fairly. He said the government did not act as it did in Nazim's case even though many such things were witnessed in the past, adding that both he and his brother would most likely be jailed.
Remarks on Yoga Day attack:
Former Maldivian President Mohamed Nasheed has expressed his displeasure over the fact that yoga and exercise are against Islam and that the beginning of activities that disrupt the lives of Maldivians will lead to a loss of life.
Nasheed said that other countries were left behind in such matters.
"It is haraam to do yoga in the Maldives, it is against Islam to practice, and if we start disrupting our daily lives, then we are not safe," said Nasheed.
He said that the Maldives should not be allowed to go to the edge of destruction.
Nasheed also assured that the MDP has always aimed to establish the Maldives as desired by Maldivians, and that the party will not hesitate to achieve this for the people.
The MDP was registered on June 26, 2005, as the first political party in the Maldives.