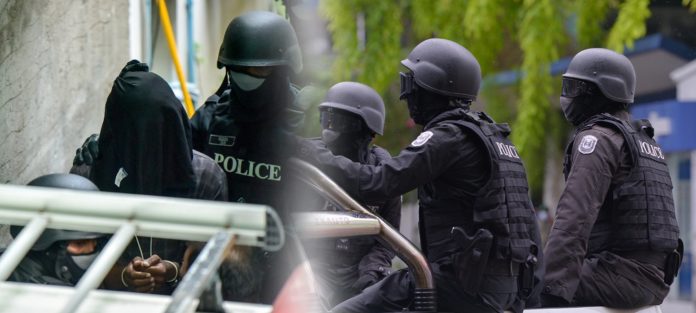 The incident is reported in coincidence with the visit of President Solih and External Affairs Minister of India, Dr. S. Jaishankar for the inauguration ceremony of India-funded 'National College of Policing and Law Enforcement' in Addu City.
Other high profile officials included Vice President Faisal Naseem, Foreign Minister and UNGA President Abdulla Shahid.
Police confirmed that nine people were arrested from Addu in a special anti-terror operation. The arrests were made on suspicion of attempting to carry out an act of terrorism.
The terrorist group is believed to have supported ISIS in Addu City. In addition to their arrest, several residences were searched and some electronic means were taken into custody.
Three children in connection to the case were also taken into police custody.
Police have not revealed any details regarding those arrested so far. They have not released any statements yet.
Although the arrest operation was conducted during the visit of President Solih and the Indian Foreign Minister, it is not known if the terrorism was carried out during their visit.
Police arrested people from Addu city after a powerful bomb exploded on May 6, 2021 to assassinate speaker of parliament Mohamed Nasheed. A total of one person was arrested in connection with the attack on Nasheed.