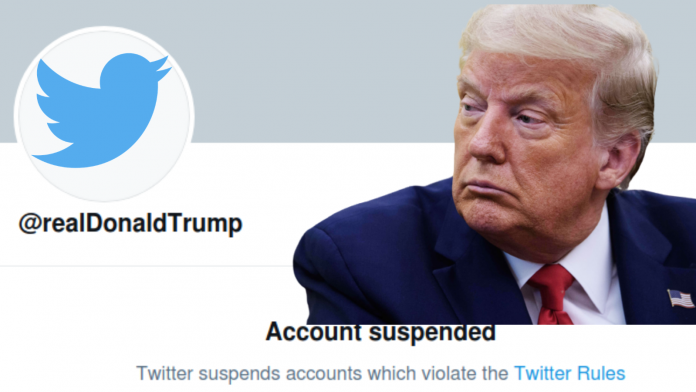 Twitter said it has permanently suspended US President Donald Trump's account due to the risk of further incitement of violence after hundreds of his supporters stormed the US Capitol.
"After close review of recent Tweets from the @realDonaldTrump account and the context around them we have permanently suspended the account due to the risk of further incitement of violence,"
President Trump returned to Twitter on Thursday with a video acknowledging that President-elect Joe Biden would be the next US president and said his focus would be on a smooth transition of power to the next administration. But on Friday, he posted a series of tweets including one in which he said he would not attend Biden's swearing-in ceremony on January 20 and one in which he referred to his supporters as patriots.
According to Twitter, Trump said the "75,000,000 great American Patriots who voted for me, AMERICA FIRST, and MAKE AMERICA GREAT AGAIN, will have a GIANT VOICE long into the future. They will not be disrespected or treated unfairly in any way, shape or form!!!"
Twitter said in its assessment this tweet "is being interpreted as further indication that President Trump does not plan to facilitate an 'orderly transition' and instead that he plans to continue to support, empower, and shield those who believe he won the election."
In a separate tweet, Trump said: "To all of those who have asked, I will not be going to the Inauguration on January 20th."
After that President Trump suggested on Friday night that he may seek to build his own online platform and tweeted from the @POTUS account after Twitter banned @realDonaldTrump, he and his team are looking at the possibility of "building out our own platform in the near future."
"As I have been saying for a long time, Twitter has gone further and further in banning free speech, and tonight, Twitter employees have coordinated with the Democrats and the Radical Left in removing my account from their platform, to silence me — and YOU, the 75,000,000 great patriots who voted for me," he wrote.
"Twitter may be a private company, but without the government's gift of Section 230 they would not exist for long," Trump continued, referring to his longstanding criticism of a key liability protection for tech companies that he has pushed to repeal.