Who is Umar Naseer
Former Police Officer and founding member of Islamic Democratic Party in 2005.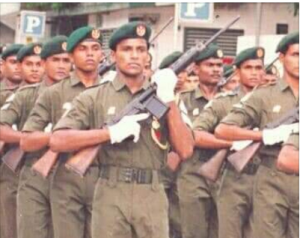 Presidential candidate in 2008,who received only 2,472 vote.

After lose of face in elections,Naseer started a campaign to defame the Nasheed led Government. Later, he joined the PPM in 2013 and became Home Minister in Yameen's government. Naseer played a major role in 2012 coup.Noteworthy,all his actions have benefited Yameen only.
Umar Naseer was either co-conspirator or party to the following incidents which led to dictatorship in Maldives ..
Umar Naseer involvement in 2012 Coup
Umar Naseer,who had Conspired to overthrow the first democratically elected government in 2012.
Framed former VP Adeeb In boat blast Case with fabricated evidence 
Denied Medical Permission to Former President Nasheed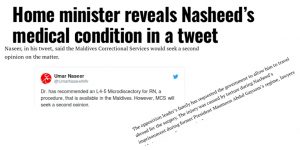 Link – Home minister reveals Nasheed's medical condition in a tweet
Banned Peaceful protests in Maldives during his ministerial tenure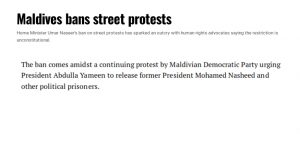 LinK- Maldives bans street protests
He defended the death penalty in Maldives and rushed to execute death sentence of a 22-year-old Hussain Humam who was falsely implicated in MP Dr Afrasheem Ali's murder case. Although, Naseer , later, admitted that Yameen was actually involved in MP Dr Afrasheem murder.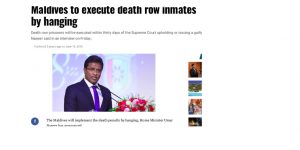 Link-  Maldives to execute death row inmates by hanging
Umar Naseer  undermined probe into the Journalist Rilwan's abduction case
Umar Naseer had ordered the telecoms regulator to block access to regional news website, AdduLive, After an expose linking former First Lady Fathimath Ibrahim to corruption .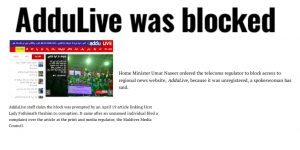 Link-   AdduLive was blocked

Umar Naseer 'sexist' tweet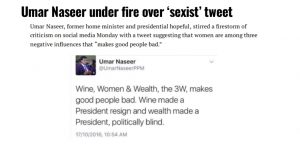 Link- Umar Naseer under fire over 'sexist' tweet