The Supreme Court on Sunday upheld the results of last month's presidential election in an unanimous judgment after President Yameen challenged his own defeat in the poll.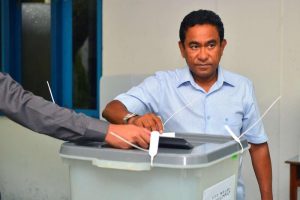 Supporters of Yameen, who initially conceded defeat to joint opposition leader Ibrahim Mohamed Solih, said the vote had been rigged and that some of the ballot papers were fraudulent. The court rules that Yameen had not been able to prove that electoral fraud had taken place, and that any issues with the voting process would not have affected the result given the margin of Solih's victory.

Outgoing President Yameen, who jailed many of his political opponents including his own half brother during his presidency, filed the petition in the Supreme Court on Oct. 10.
The official count of the Sept. 23 poll showed joint opposition leader Ibrahim Mohamed Solih had won a surprise victory by a margin of 16.8 percent.
"The court rules that there is no legal or constitutional basis to question the legality of the election based on the evidence submitted to this court," said Chief Justice Dr. Ahmed Abdulla Didi, on behalf of the five justices hearing the petition. 
Live : Near Supreme Court #Male #Maldives pic.twitter.com/GmCHvFfh8Y

— Shiham Waheed ✌️🎈 (@ShihamWaheed) October 21, 2018
 Hundreds of protestors outside the Supreme Court called for the arrest of Yameen after the verdict. Unlike previous hearings in the case, ruling party supporters did not gather outside the court.
The Maldives Elections Commission had said the September vote had been free and fair, with a turnout of 89.2 percent.
Congratulations EC Legal Team! We are overwhelmed by the hardwork you have contributed to EC and the Nation. 🇲🇻 pic.twitter.com/2efxyjGVPU

— Elections Commission (@ElectionsMv) October 21, 2018
The United States, which has previously warned of sanctions if the country did not hold free elections, was quick to welcome the verdict.