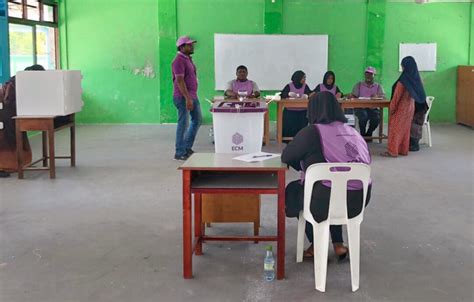 The guideline is for the purpose to ensure public safety during the elections.
Pens and pencils used by officials are not to be shared.
Lists and documents for the election are to be arranged for viewership through online .
Electoral officials are to be grouped in small numbers to reduce the chance of the spread of the virus among officials .
Campaigners for the election are still required to quarantine when traveling to islands and it is encouraged to carry out online campaigns as much as possible.
Gatherings in large crowds are not permitted near polling stations.
When recruiting electoral officials, priority is to be given to those individuals who can work from the island where they are located and training is to be provided through online means. Sanitizers are to be placed at all polling stations and social distance is to be strictly enforced when queuing.
Other measures include increasing voting hours so that voters could be distributed without risk of congestion inside stations. Isolated individuals due to a positive case or contact, could be designated a separate station for voting and could be permitted to travel to that station through a vehicle without any contacts under the permission of the HPA. Organizers are to make arrangements for such situations.