On Friday, MDP Member and Former MP Mohamed Musthafa tweeted a video in which he claimed that – "Police brutality and murder of many people, including children, at a madrassa in Uttar Pradesh (India) It has not been aired by the media. We have to show it to the whole world."
Screen shot of tweeted Video –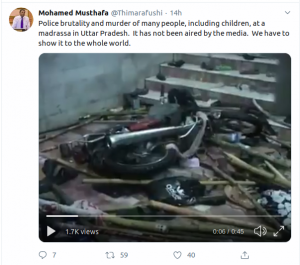 Fact-check of tweeted video – The claims made in twitter posts is false , the video is actually from Bangladesh protest, organized by the Hefazat-e Isalam in the capital Dhaka on 6 May 2013 . A closer look of video reveals printed name, RAB on the police uniforms. Rapid Action Battalion or RAB, is an elite anti-crime and anti-terrorism unit of the Bangladesh Police.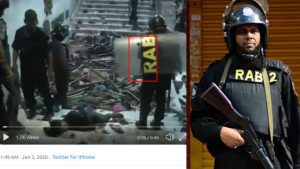 Same video was uploaded in June 2014 described as " 5 May 2013 RAB & Police killing mission in Bangladesh .
This Incident was also reported by several international media outlets .
Pakistan Prime Minister also tweeted same video from his handle . Later tweet was deleted by the PM Imran Khan.