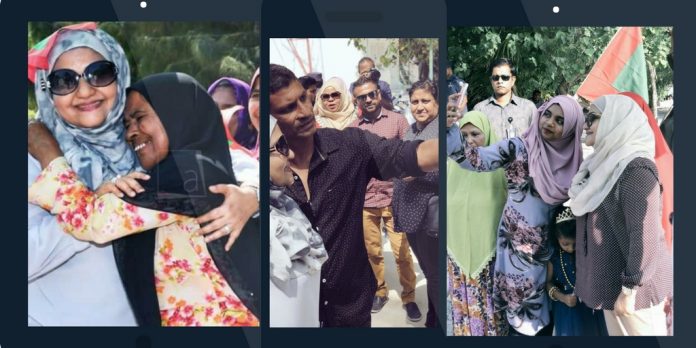 The first lady, known as Madam Fathun, has attracted controversy, due to the her activities. Recently, she visited Alif Alif atoll for the up coming Presidential Election campaign of her husband President Yameen . There her election management team organized public meeting to promote Yameen's election agenda but this public gathering and affection sparked outrage on social media. According to Independent MP Ahmed Mahloof, the public display of affection seen around her were mere drama. People were paid to do so. Organizers of such drama were paid MVR 500 each by the First Lady, the groups of 10 for Selfie and groups of 5 to give Hugs to the First Lady.
Fathmath Ibrahim Didi rahrashah vadaigannavaairu selfie nagan 10 meehun, bahdhaalan 5 meehun thibeygothah raavaa, komme meehakah 500/- dheyhisaabah dhiyaima ithurah alhugandu dhakkaane vaahakaeh neiy. Emme arihugaves thibee dhekolhah failaigen thibimeehun #Ladhunboahalaaku

— Ahmed Mahloof (@AhmedMahloof) January 10, 2018

MDP MP Rozaina Adam
Reminds me of the song '#SantaClaus is coming to town'.
Reminds me of the song '#SantaClaus is coming to town'. pic.twitter.com/Z7JlXDZo8j

— MP Rozaina Adam 🎈 (@Roxeyna) January 12, 2018
Mi dhaidha ah dheyne kanneyge 2 sitee uru varu, evarah eba olhulaa bahdhaa. pic.twitter.com/PGUEJgxhtr

— PresShaani (@ujaasu) January 12, 2018

Shamoon 'Lucas' jaleel – Writer and Social media activist
1 selfie – 500/-
10 selfie – 5000/-
1 hug – 500/-
5 hugs – 1500/-
For the pimp – 500/-
Total: 7000/-
Bill to baithul maalu.

— Luke (@Lucasjalyl) January 11, 2018

Mickail Naseem – MDP Youth President
Venmas venah. pic.twitter.com/p3bsQ2r8gf

— Mickail Naseem 🎈 (@MickailNaseem) January 12, 2018

Nauty Matox – Social media activist
G morning Maldives!
The Sitee Ura side of Life! pic.twitter.com/LNstDtGLlD

— Nauty 🎈 (@nautymatox) January 12, 2018