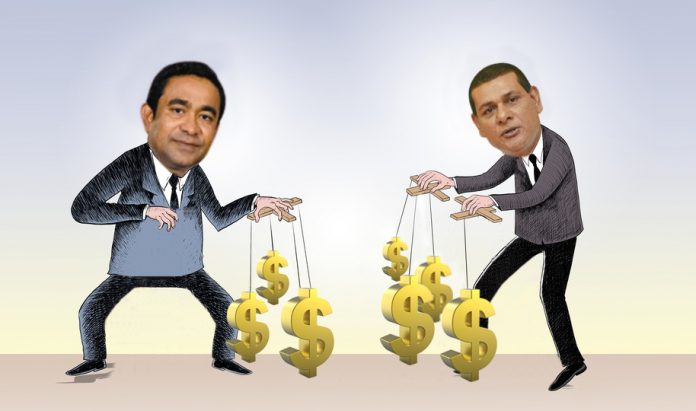 In another agonizing decision taken by the Maldivian Government, it has agreed to become a guarantor for a loan of 200 Million taken by businessman Ahmed Sun Shiyam from a Chinese bank. Below are the series of events leading to this decision which has become a threat for every Maldivian.
Who is Ahmed Sun Shiyam?
Ahmed Sun Shiyam is the owner of the Sun Travels and Tours company, which operates several high-end resorts in the Maldives under the brand Sun Siyam.
Why did the Maldives Government Guarantee his loan of 200 Million?
When Sun Shiyam applied for the loan at a Chinese bank, he was asked to provide a Guarantee. The bank told him that only if the Government of Maldives agrees to guarantee it then Shiyam could get the loan. Afterwards Sun Shiyam sent an application to the Government which was rejected at first on Attorney General's opinion.
Is it legal for the Govt. to Guarantee a Sovereign Loan?
When Sun Shiyam's application was rejected, he paid a visit to President Abdullah Yameen. At that time there was no such provision where such a guarantee could be made but The Finance Minister, Mr Ahmed Munawar made it possible. Through the help of Mr. Ahmed munawar, the Government gazetted a new policy on releasing Sovereign Guarantees for a fee last December. Compiled by the Ministry of Finance and Treasury, the policy now states that guarantees would be issued only to companies that have government shares or are registered in Maldives. Once this policy passed, Sun Shiyam's company was added in the list.
Why Sun Shiyam needed a loan of 200 Million?
The loan has been taken to develop a resort in Noonu Atoll Dhigurah along an airport at Noonu Atoll Maafaru which is set to be made by Sun Hotel and Resorts. The loan is all set to be granted for the construction of the resort along Maafaru Airport while the government has not announced yet that the project was handed over to any company. However, according to one of the trusted media sources Raajje MV the project is awarded to Sun Travel Hotels and Resorts among the two companies which showed interest.
Government to give a 3 billion Rufiyaa loan guarantee to Sun Shiyam
How did the project of Maafaru Airport was granted to Shiyam when Initially Hamid Ismail, a relative of Ahmed Adeeb was building it?
Initially the project to build an airport in Maafaru was handed over to Millennium Capital Investment (MCI) which is owned by Hamid Ismail, who is a relative of former Vice President Ahmed Adeeb. Though, after the blast on Presidential boat and the arrest of Ahmed Adeeb, it was quietly granted to Ahmed Sun Shiyam's company.
What will happen if Sun Shiyam will not be able to repay the 200 Million loan guaranteed by Maldives Government?
In such a scenario, Maldives Government will become liable to pay that money and try to generate revenue for its payment. The interest of bank loans in Chinese banks are higher in the whole world and the total amount to be paid back becomes almost double than the Granted amount. In this case , the Government has Guaranteed to pay almost 300 Million to the bank if Sun Shiyam is not able to repay the loan. At present, Yameen Government has already deposited 3 million as a deficit amount to the Chinese bank.
How the people of Maldives will be affected from this loan?
In order to generate the revenue for the repayment of a loan taken by Ahmed Sun Shiyam, Maldivians will be burdened through increased tax rates etc. Our hard earned money will be sucked by the Government because Sun Travels and Tours company wants to build a resort and earn profit from it!
What did everyone earned from this decision of PPM Government?
From Ahmed Sun Shiyam getting a loan of 200 Million to Pres. Yameen getting USD 6 Million in his bank account as a "cut" for this deal.
The only one who lost anything were we Maldivians. Tax payers money is again being used to Guarantee such a huge loan and it will again be used to repay it. We people are being burdened with Debt just because Businessmen and PPM Govt. want to keep filling their pockets with cash!