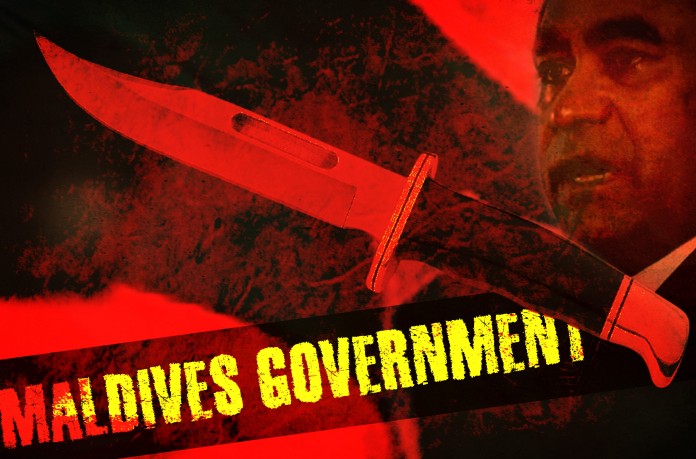 Incidents of two separate knife attacks during the night of July 19 in Male' city has brought to fore memories of violent gang wars. A few days back, on July 13, brother of Ilham Ahmed, ruling PPM MP, who signed the second No Confidence Motion against Majlis Speaker defying his party line, was attacked on his way from home to work. Three minors were also injured in separate attacks this month. Are these incidents unconnected and random acts of local gang elements? Superficially it may appear to be so, but under prevailing political dynamics in the country, nothing is coincidental or a matter of chance.
It is a well known fact that President Yameen's government is indulging in everything under its belt – legitimate or illegitimate, moral or immoral – to retain its power. It's no wonder that he has let loose gang leaders loyal to him to create fear among people. Attack on MP's sibling, Mauroof Hussain, following his removal from the government post, was a direct warning to all those Parliamentarians, who mustered courage to come out against President Yameen openly by joining the ranks of opposition. The message was loud and clear – defying the dictator would hurt, not only by way of loosing Majlis membership, but also in the form of persecution of family members using non-state actors. Attacks against others signify that criminal gangs are out in the open and they would take care of those who plan to protest against what's going on in the country.
Yet, 45 elected representatives have put their lives and liberty including those of their family members at stake to dethrone the dictator. Question is will it be followed by those for whom these Majlis members are willing to sacrifice their physical and economic existence. Liberty has a price to pay. Are Maldivians ready to buy freedom, perhaps at a heavy cost or remain shackled and cribbing what could they do?
This article has been submitted to Maldives uprising by one of our readers. If you want your article to be featured on our website then please contact us on . your Identity will be kept anonymous