Following their defeat in the presidential election on September 9 and their subsequent decision not to forge an alliance with any other political party, key members of the Jumhoory Party (JP) leadership have begun openly expressing their endorsement for President Ibrahim Mohamed Solih, who is the Maldivian Democratic Party's (MDP) candidate in the upcoming second round of elections set for September 30.
After deliberations with the Progressive Party of Maldives – People's National Congress (PPM-PNC) and the MDP, both of which advanced to the second round of the elections, the JP's council convened on Tuesday and resolved not to officially back any party in the upcoming runoff.
Subsequently, when the party's Secretary General (SG), Ali Arif, stepped down from his position to join the campaign of the PPM-PNC's presidential candidate, Dr. Mohamed Muizz, the party's leader, Gasim Ibrahim, released a statement addressing the general membership. In this statement, he emphasized that every member had the freedom to support their chosen candidate without needing to invoke the party's name.
Consequently, several prominent JP members have opted to back their preferred candidates in the second round. Some JP councilors have already declared their support for specific candidates, while others have indicated that they will announce their decision shortly. Notably, many leading figures within the JP have expressed their endorsement for President Solih.
Those who have officially declared their support for President Solih include:
Riyaz Rasheed, Special Advisor to Gasim, who made his announcement alongside a photo of himself with President Solih on X. In his post, he justified his decision by asserting that President Solih represented the best choice for the people of the nation, clarifying that his support for President Solih did not imply his departure from the JP.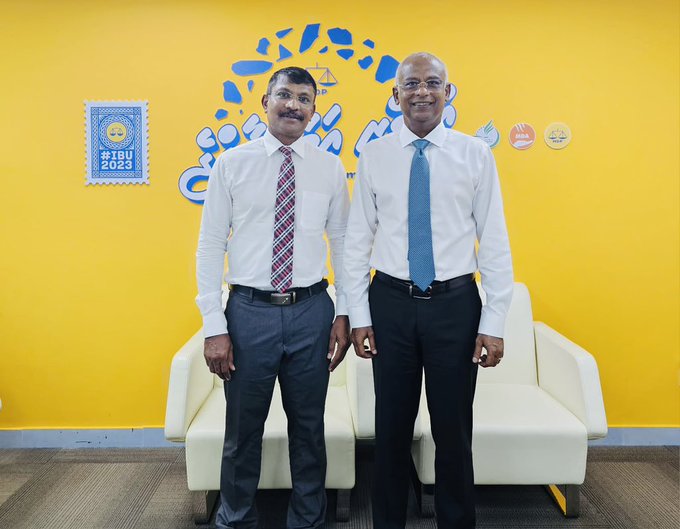 Mohamed Saeed, a JP council member, who has also publicly endorsed President Solih.

Ali Solih, the JP's senior spokesperson and state transport minister, who stands in support of President Solih.
Moreover, Gasim's special envoy, Ilham Ahmed, took to X on Thursday to hint at an imminent significant political decision, indicating that it would be revealed shortly. He cited his diverse political experiences over the past 15 years since entering politics in 2008 as a basis for his forthcoming choice and hinted at his inclination to support President Solih.