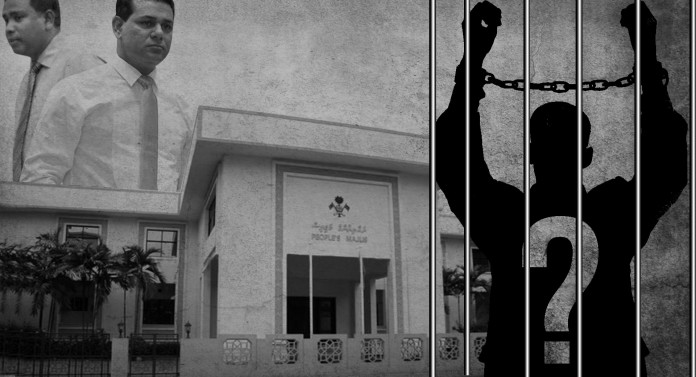 Arrest of opposition figure and parliamentary vote highlight growing pressure on autocratic President

Abdulla Yameen



Nowadays the news of an MP's arrest has become common in Maldives. Another thing which has become common is that almost all of those leaders belong to opposition parties. Recently, on April 6,2017, Gasim Ibrahim,the leader of Jumhooree Party was arrested from his house. His arrest was based on just an intelligence report and the police still don't have an evidence against him. Colonel Mohamed Nazim, a former defense minister and critic of Yameen who had been released from house arrest in late March, was re-confined after the vote.
Interestingly, a large number of MPs associated with PPM have been accused of bribery and some of them have even confessed their crimes but no action has been taken against them. No arrests, not even an investigation have been ordered to know the reality. Last year, in March 2017, MP Mohamed Ismail admitted to have carried "sacks of money" for bribing the MPs. He made this statement during a heated debate on a motion calling for a parliamentary inquiry into the embezzlement of nearly US$80 million from the state-owned tourism promotion company. He said that the money was an act of corruption and all the MPs took the money from him.Ruling coalition MP stands by admission of bribery
MP Mohamed Ismail's statement was criticized by the opposition and in media equally but Yameen Government ignored all the protests and did nothing against the MP. Though, the present Maldivian Government has never ignored even a peaceful event by the opposition parties and have made sure that opposition MPs are detained during such events.
MP Ismail's was not the first MP to get bailed or simply ignored by the Government. In November 2015, MP Mohamed Musthafa belonging to ruling Progressive Party of Maldives(G) Spoke during the budget and accused Shiyam, owner of the Sun Siyam resorts, of threatening the MPs to vote in the favor of the impeachment motion against VP Ahmed Adeeb. Shiyam was also said to be explicitly warning all 58 MPs that if they didn't vote in a particular way, then they will be included among the bomb suspects, their property will be searched and confiscated, and they will be tried as terrorists. MP Mohamed Musthafa also stated that MPs are being "held at gunpoint" through threats and intimidation.
At present, Gasim Ibrahim has been remanded for six days by the criminal court on charges of bribery without any evidence presented by Maldivian Police. Other than this , lawmakers , leaders, activists and MPs who oppose the Yameen Govt. are also regularly being harassed by the police. Though, even after these ongoing harassments, a slight shift can be seen among the members of the ruling party. The second appeal made by opposition leaders for the impeachment of Mohamed Maseeh( speaker of Majlis) has seen a rise in signatures supporting it from 26 to 31 signatures this time.
While the rate of arrests among opposition leaders is rising at rapid rate in Maldives, the international attention on the depriving state of democracy in the country is also rising at the same level. All the international Human right councils are stating their disagreement with Pres Yameen's decisions. With all this building pressure both internally and externally, it seems as if the President has lost control and hastily taking wrong decisions to save his face.
This reminds me of a quote by Atifete Jahjaga – "Democracy must be built through open societies that share information. When there is information, there is enlightenment. When there is debate, there are solutions. When there is no sharing of power, no rule of law, no accountability, there is abuse, corruption, subjugation and indignation." If this situation continues in Maldives, then Pres. Yameen's Govt won't be able to survive for long.
Related Articles
Ruling coalition MP stands by admission of bribery
MPs 'threatened' before vote on vice president's impeachment