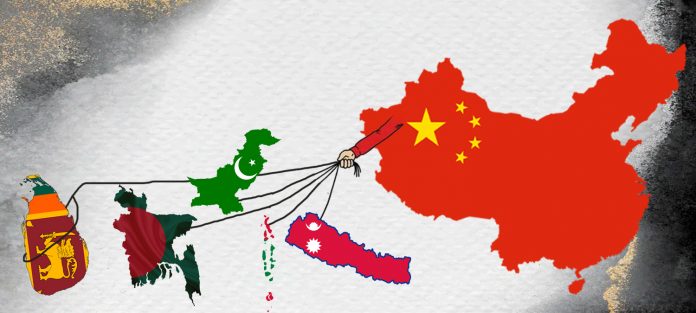 China is world's largest trader and manufacturer and over the years, it has significantly expanded its engagements in the Indian Ocean region. This elevated interest in the region is because of the nation's economic development that is highly dependent on energy products that are shipped across the Indian Ocean, comprising 70 per cent of China's total oil imports.
The resource inflow from the Middle East, East Africa and Western Australia contributes great importance to the geopolitical significance of the Indian Ocean Region. Notably, because of the Belt and Road Initiative, China's economic and political footprint has expanded so quickly in the region.
Belt and Road Initiative: Launched in 2013 by President Xi Jinping, it is a strategy with a view to develop global infrastructure by investing in 70 countries and international organizations. The Xi government has also focused on integrating China into South Asia through the Belt and Road Initiative. With the exceptions of Bhutan and India, all South Asian countries have become a part of the initiative. As Belt and Road expands in scope so do concerns about it being a form of economic imperialism that gives China upper-hand over other countries, often those that are smaller in size and poorer in economy.
For many years, there has been discussion of a string of pearls in the Indian Ocean. This concept is based on the comprehension that China is strategically building ports in bordering countries to contain India.
China's Growing influence & Goals: Chinese President Xi Jinping visited the Maldives, Nepal, Pakistan and Sri Lanka, and infused billions of dollars into promoting development and basic infrastructure in South Asian countries. In most of the cases, it had to lent them money to construct these mega infrastructure projects in the region. Its loans to Sri Lanka were at $4.6 billion in 2020, and the overall figure for Maldives is believed to be between $1.1 billion and $1.4 billion.
China's goal behind flooding a country with investment is that it spreads a strategic message designed to influence public opinion, there is often little space left for counter-narratives, especially in countries that lack independent media or have weak civil societies.
Debt-trap diplomacy: China has been time and again speculated for practicing debt-trap diplomacy—a practice of offering easy money for unfeasible projects with the aim of gaining control of assets. Sri Lanka is often cited as an example of debt-trap diplomacy. Studies in 2020 put Sri Lanka's external debt to China at about 6 percent of gross domestic product (GDP).
Dispute between the countries: Amidst Sri Lanka's plan to promote organic farming by banning chemical fertilizer, Qingdao Seawin won a Sri Lankan government tender to supply organic fertilizer under this new policy. Later the National Plant Quarantine Service (government's agency) found that a sample from the cargo had pathogens, including a bacteria that can cause crop failure.
The shipment was not allowed to enter Sri Lanka and a court order was released to halt the People's Bank from making payments. Following this, a dispute broke out and the China's embassy in Colombo blacklisted People's Bank.
China-Sri Lanka's relationship had long been amicable. But this relationship became more prominent when a 26-year-long civil war broke out in Sri Lanka with ethnic Tamil separatist. Under the leadership of Mr. Rajapaksa who was elected in the year 2005, Sri Lanka started depending heavily towards China for economic support, military equipment and also took loans in bulk for various development projects. Mr. Rajapaksa's tenure came to an end in 2015.
Studies were against the idea of building a port in Hambantota but the reason for the former President to be so personally involved in pushing the project was mostly driven by the funds that were going into his electoral campaign. A New York Times report published in 2018 alleged that the Chinese had paid the Rajapaksas substantial sums to see the project through. The NYT even listed specific details of how China Harbour, the company that had built the port, were involved in financing the brothers campaign during the country's 2015 parliamentary election, from funding cash to clothes for supporters. Unfortunately, the port was signed over to Beijing on a 99 year lease because the country failed to repay loans it took in the first place to build it.
World's emptiest airport: Amounting at $209 million, $190 of which is coming in the form of loans from China, Mattalla town in Hambantota was selected for the country's number two air transport hub to be constructed. Hambantota district was to become the shining achievement of the Rajapaksa regime but both the projects failed miserably.
China-Pakistan: The China-Pakistan Economic Corridor (CPEC) has become the centerpiece of the BRI with an estimated US$62 billion worth of infrastructure projects planned. The project that has received the most attention is the Gwadar Port for its strategic positioning, in which China has invested billions.
Just like Hambantota in Sri Lanka, Gwadar port was given up to a Chinese-backed multinational corporation for a lease of 40 years resulting to its amounting debt. As per reports, under CPEC's 19 initial intakes of projects where China has financed on record of bank loans, Pakistan is expected to repay $100 billion to China by 2024, which is quite a hefty sum comparing to its total expenditure of $18.5 billion.
Protests have occurred in Pakistan's port city Gwadar as a part of growing backlash against China's multibillion-dollar belt and road projects in the country. Suicide bombers have emerged who tried to kill the Chinese Engineers on their way to the site, relating to this, Pakistan has increased security forces to safeguard Chinese. Since China was granted a lease on Gwadar port, no developmental projects has begun and instead locals say that China's presence is hampering their livelihoods and creating local food shortages by allowing Chinese fishing boats to illegally fish in Pakistan's waters around the port.
China-Maldives: Under Yameen's tenure, China got quite the leverage as he was very inclined and welcoming towards China. The good and friendly neighbor relation boosted and cooperation in tourism, culture and defense deepened under Belt and Road Initiative. Yameen wanted to kick-start the economy and borrowed hundreds of millions of dollars to do so. The Sinmale bridge is one such project where enormous funds were taken in.
Recently, the Anti Corruption Commission of Maldives also came out with a report that the Hiyaa Housing Project, taken in by the China State Construction Engineering Corporation (CSCEC) for USD 437 million loan, had some kind of foul involvement by the then government and that the debt accumulated in the future would be economically unfeasible.
Mr Nasheed, former President and now speaker of parliament worries that his country might face the same fate as Sri Lanka. He argues the cost of projects was inflated and the debt on paper is far greater than the money actually received.
China-Nepal: China-Nepal relations have undergone a transformation under President Xi and Nepalese Prime Minister K.P. Sharma Oli. Xi became the first Chinese head of state to visit Nepal in 23 years. During his visit, Xi signed 20 agreements through the BRI to develop and connect with Nepal, particularly through the Trans-Himalayan Multi-Dimensional Connectivity Network.
A large Tibetian population residing in Nepal is critical of Chinese government and Beijing wants to stop Tibetians from fleeing through the China-Nepal border to India, therefore China has sought help from Nepal to support its one-China policy, to which Nepal has responded positively. In October 2019, a top U.S. diplomat warned, "As Chinese influence has grown in Nepal, so has the government of Nepal's restrictions on the Tibetan community," signaling growing international concerns over the China-Nepal relationship.
The alleged 2015 border blockade episode led to the downfall of India's traditional goodwill in Nepal. This was in relation to protests by the Madhesi people — many of whom have relations in India.
Recent Scenario between China and Nepal: Businessmen from Nepal has protested against China of imposing an unofficial blockade in the Nepal-China border. They accused that Chinese transporters has increased freight charges along the nearly 26 km stretch between the Chinese border point and the Nepalese border from RMB 15,000-16,000 to 60,000-65,000. Lekh Raj Bhatta, incumbent Minister for Industry, Commerce and Supplies expressed his dissatisfaction with the Chinese behaviour on trade with Nepal and slammed Beijing for blocking trade with Nepal.
Presently, there are nine trading routes between Nepal and China of which Rasuwagadhi and Tatopani are most pivotal. It is these two key border points that have been closed since January 2020. Though the border reopened after almost 16 months of blockade, the export import trade has not picked up.
China-Bangladesh: Bangladesh is the second most important recipient of Chinese funds after Pakistan. The largest number of infrastructure projects developed with Chinese help in South Asia are in Bangladesh. It also makes up over 70 percent of Bangladesh's major arms purchases. Relationship has always been good and cordial but it evolved into a strategic partnership when Bangladesh joined BRI. The rift in this friendship first came when Bangladesh showed more inclination towards Indian made Covid vaccine over Chinas'.
Involvement in internal matters: The Chinese ambassador to Bangladesh said, "Relations with China will be damaged if Bangladesh joins the Quad." He warned the country against joining the Quadrilateral Security Dialogue, or "Quad"—the informal grouping of Australia, India, Japan, and the United States that some in Beijing view as an anti-China alliance. Foreign Minister A.K. Abdul Momen responded within a day, reminding China that Bangladesh was free to make its own foreign policy choices and relationships in its interest.
Bangladesh cancels projects: Unlike Pakistan and Sri Lanka, Bangladesh has been wary of the funds and loans bubbling in their country and did economic management so as to not fall into any 'debt trap' of China. Deep-sea ports investments were not allowed as it cancelled Sonadia project. A highway project that was supposed to have been built by the China Harbour Engineering Company was also shutdown due to the company reputedly offering a Bangladeshi official a bribe.
Asia Giant tools of influence:
China's peak activity is at countries that has-
weak institutions

fragile civil societies

countries where political dispute exists at large.
The main condition of Chinese funding is that contractors will be selected by the Chinese government instead of an open tender.
Cultural Approach: Beijing first tries to connect with a country through a more cultural approach. In Bangladesh, cultural exchanges between the people of both countries underwent significant developments in 2019, as over 37,000 Bangladeshi tourists travelled to China and more than 5,000 Bangladeshi students are studying in China.
The Confucius Institute has been set up in various institutions, to facilitate Chinese language education for Bangladeshis. Chinese language courses have been introduced in various educational institutions including the University of Dhaka and North South University. Every year, a large number of Bangladeshi students are going to study in different universities of China with scholarships. Cultural groups are coming and going every year as part of cultural interactions. Journalists have been awarded one-year, all-expenses-paid fellowships to Chinese institutions, and multiple newspapers have worked with the Chinese embassy to coordinate on the benefits of the BRI for the country.
In Nepal, multiple schools have made Chinese-language courses compulsory after the Chinese government offered to cover the salaries of the teachers involved.
Countries realizing the risk: The Washington-based think tank, Center for Global Development warned that 23 of the 68 countries benefiting from Belt and Road investments were significantly or highly vulnerable to debt distress. The report stated that around eight nations will find themselves vulnerable to above-average debt: Djibouti, Kyrgyzstan, Laos, the Maldives, Mongolia, Montenegro, Pakistan, and Tajikistan.
Countries are learning from each other and changing. Stakeholders that were engaged highlighted their awareness about the negative consequences of Chinese engagement, as well as their willingness to avoid them.
Sino-Indian Relationship:
China has a long-standing border dispute with India, and considers India as its rival. In 2020 border crisis, deaths of twenty Indian and an unknown number of Chinese troops in Ladakh put New Delhi's challenge of balancing the relationship, which will limit China's ability to pursue opportunities in India for years.
Undoubtedly, China has been expanding its footprint in South Asia for good reason. There are several factors driving China's South Asia policy. At the same time, Xi's government is extremely upset with India for providing asylum to His Holiness the Dalai Lama and other Tibetans, and for its refusal to join the Belt and Road Initiative.
But even despite numerous attempts by Chinese elite strategists to lessen India's influence in the region, India is still considered as the major strategic player due to shared cultural, political and social connections of India with the above discussed countries. There seems to be limits on how greatly China can influence. However, there is no doubt, that the shift is gradually taking place as China cannot be ignored when considering it as a developmental partner.
While China's footprint in world trade is well known, its expanding role in global finance is poorly documented and understood which is why it comes off as an alarming issue. The type of company-to-company lending policy followed by Beijing is often not collected by the statistical offices of developing countries because of this international debt statics suffer.