Former First Lady Fathimath Ibrahim, recently met with supporters over a meal. Supporters exclaimed that it was nice meeting with her after what seemed like a long time.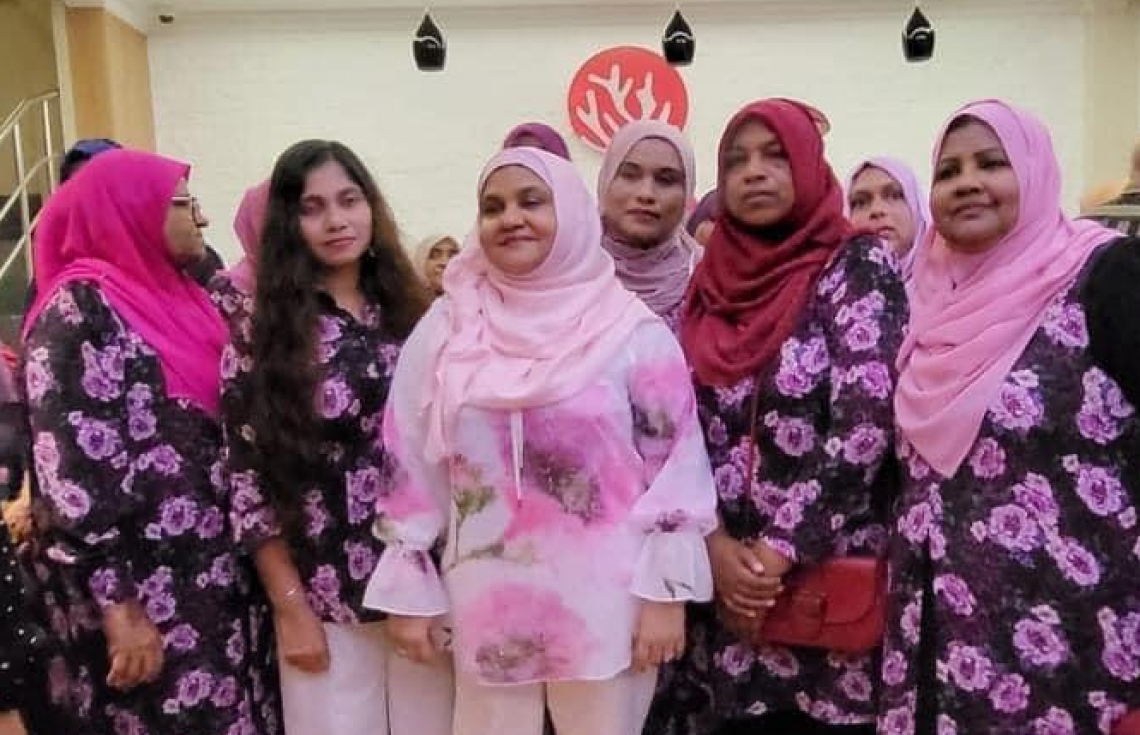 Madam Fathimath had completely disappeared from the public eye after her husband, Yameen's defeat in the 2018 presidential elections.
During former President Yameen's administration, she was seen as an active first lady in promoting his political ambition . She had carried out a number of social activities and events on her own.
But all these activities came to a halt as Yameen's regime ended. She did not participate in any political activities or PPM events after the election.
The sudden appearance of her, draws in attention from the on-lookers who are of the suspicion that this could be another politically motivated attempt by the opposition.
Also with the Former First Lady having a questionable history regarding her involvement in campaigning for Yameen, it wouldn't be a surprise if she starts her political venture again.
Timeline of Madam Fathun's Controversial Manoeuvre-:

Dec 2015: Cash handouts to single mothers from President Abdulla Yameen and First Lady Fathimath Ibrahim sparked concerns of corruption.
Feb 2016: First Lady Fathimath Ibrahim distributed cash during visits to households in Malé amidst concern over the first couple's involvement in the theft of hundreds of millions of dollars from state coffers.
June 2016: First Lady Fathimath Ibrahim sparked a firestorm of criticism after it emerged that the Sadagat Foundation, a charity organisation she founded was distributing packets of dates gifted by Saudi Arabia to the people of the Maldives in its name.
June 2016: CNM(Channel News Maldives), a popular news website critical of the Maldives government, was forced shut after it exposed the first lady's misuse of state resources.
Jan 2017: First Lady Fathmath Ibrahim launched President Abdulla Yameen's 2018 re-election campaign. A series of nationwide campaign activities was organised and carried out by the first lady's office and not the ruling Progressive Party of Maldives.
Oct 2017: The PPM's first major rally in months was wrecked by reports of forced attendance by civil servants and employees of state-owned companies, whose attendance was marked upon entrance at a security check-point.
Oct 2017: Fathimath Zaina, who worked as an aide to First Lady Fathimath Ibrahim before joining the Maldives Broadcasting Commission, was photographed handing out seating arrangements to people at a rally.
Journalists and politicians questioned the independence of a broadcasting commission member after she was pictured organising a campaign event for President Abdulla Yameen.
May 2018: Fathmath Ibrahim visited 10 homes in the Machchangoalhi ward of the capital and handed over gifts from her charity foundation. The contents of the gift package were not clear.
Madam Fathun has been criticized in the past for using state resources to organise party activities and boost Yameen's political ambitions.
Though she has denied most of the allegations saying that it was all funded from her own foreign aid received through her foundation and no state money was used in it, she has never met with people's demand to declare her assets, such as to give a closure.
Her return into the political scenario at this juncture, couldn't have been timed perfectly for Yameen and PPM.