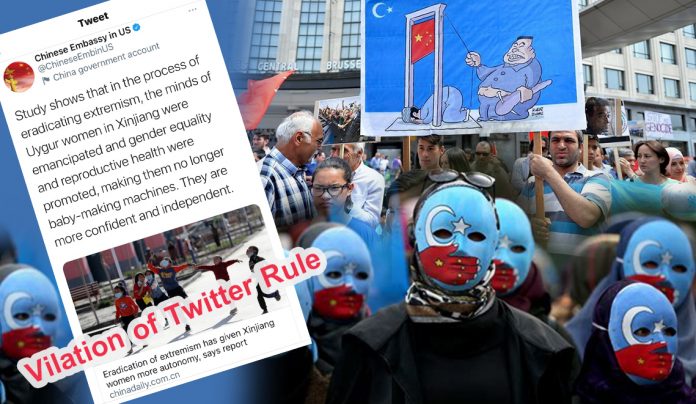 Twitter has removed a post by China's US embassy claiming that Uighur women have been "emancipated" from extremism and were no longer "baby-making machines".
The post linked to an article by Chinese state media Chian Daily, and said:  "In the process of eradicating extremism, the minds of Uygur women were emancipated and gender equality and reproductive health were promoted, making them no long baby-making machines, it said. Women have since been striving to become healthy, confident and independent.Family planning policies have been fully implemented in the region in accordance with the law, "
The post was removed after an outcry of criticism from online commentators who accused Twitter of a "double standard" in enforcement after the platform blocked US President Trump's Twitter account for 12 hours after mobs of his supporters stormed the Capitol in a bid to overturn the results of the US presidential race.
Twitter finally deleted this. Presumably embarrassed by the obvious double standard of "considering the wider context" re: Trump incitement to Capitol Hill violence but not millions of #Uyghurs in concentration camps.

Thanks to everyone who reported. https://t.co/KirjsT3H0Y

— Luke de Pulford 裴倫德 (@lukedepulford) January 9, 2021
In recent years, China has escalated its crackdown on ethnic Muslim minorities in the Xinjiang region, including the mass internment of an estimated one million people, intense human and digital surveillance, re-education programs, suppression of religious activity and destruction of religious sites, forced Labor and enforced sterilisation of women.
Last year, a report by China scholar  Adrian Zenz ,exposed China's policies in Xinjiang and highlights the Muslim minority women were being threatened with internment in camps for refusing to abort pregnancies that exceeded birth quotas. The report also said that Uighur women with more than the legally permitted number of children – but also many women who had not exceeded birth quotas – were involuntarily fitted with intra-uterine devices (IUDs), while others were coerced into receiving sterilization surgery.
Also read –  'Allow no escapes': leak exposes reality of China's vast prison camp network
Leaked Chinese government records reveal detailed surveillance reports on Uyghur families and Beijing's justification for mass detentions