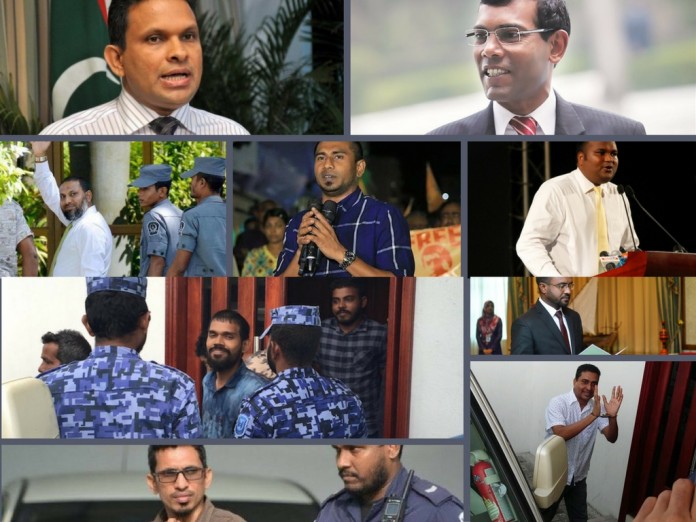 Maldives democracy is under threat of being exploited by abusing "Anti-Terrorism" Act. This law is being used as a weapon for imprisonment of political activist that oppose President Yameen in any or every way. The law has helped Yameen clip the wings of "Pro-Democracy" leaders and people of Maldives and imprison them on the pretext of Terrorism.
President Mohamed Nasheed
Former President Nasheed was sentenced over the military's detention of the Criminal Court's Chief Judge Abdulla Mohamed in January 2012. The UN Working Group on Arbitrary Detention (WGAD) has ruled that Nasheed's conviction on a terrorism charge was politically motivated and violated International law.
Col.Mohamed Nazim
Col. Nazim was framed of weapons smuggling and sentenced to 11 years in prison . Evidence was submitted to the Supreme Court to prove that a policeman planted a pistol in former Defence Minister Mohamed Nazim's apartment. The retired colonel has already spent more than 18 months in jail on a weapons smuggling charge. Amnesty International has petitioned the UN Working Group on Arbitrary Detention on behalf of former Defence Minister Mohamed Nazim's case, seeking a judgment declaring his imprisonment illegal.
Sheikh Imran Abdulla
Adhaalath Party leader Sheikh Imran Abdulla has been framed guilty of terrorism by the criminal court and sentenced to 12 years in prison. Judge Abdul Bari Yousuf said Imran incited violence against the government in his speech at the strong protest march. His conviction marks the first terrorism sentence passed in the Maldives over a speech made at a political gathering.
Ahmed Mahloof
MP Ahmed Mahloo was arrested under "Anti-Terrorism" act for promoting the first rally of the Maldives United Opposition . Mahloof was using loudspeakers to invite the public to the rescheduled rally when riot police stopped the vehicle near the local market in Malé. Mahloof was sentenced to 11 months in jail . Hours before the sentencing, judge suspended Mahloof's lawyer Nazim Sattar from representing him in the case. The judge also refused to hear defence witnesses, claiming they could not negate the testimony of prosecution witnesses.
Lucas Jalee
Shammoon Jaleel, known as Lucas Jaleel on Twitter and Facebook, was arrested with a court warrant. The criminal court also authorised the police to confiscate his phone to extract all his conversations, text messages, and other interactions .Lucas is an active member of the main opposition Maldivian Democratic Party's youth wing and an outspoken critic of President Abdulla Yameen.
Gasim Abdul Kareem
 Gasim Abdul Kareem, a former bank official who leaked documents related to the Maldives' biggest ever corruption scandal was sentenced to eight months and 12 days in prison by the criminal court. Since Gasim's arrest on February 18, he has spent more than four months in police custody and another four months in house-imprisonment. He was framed under Terrorism with data theft and illegal disclosure and prosecuted in a trial that was closed to the public.
Muhthaz Muhsin
EX chief prosecutor faced terrorism charges on 'conspiracy to kidnap president'. The arrests came in the wake of a damning audit report exposing the embezzlement of nearly US$80 million from the state-owned tourism promotion company.
Ahmed Nihan
Senior judge at the Maamigili magistrate court, was framed of terrorism and sentenced to 17 years in jail. He had issued a warrant for President Abdula Yameen arrest over the Maldives' biggest corruption scandal.