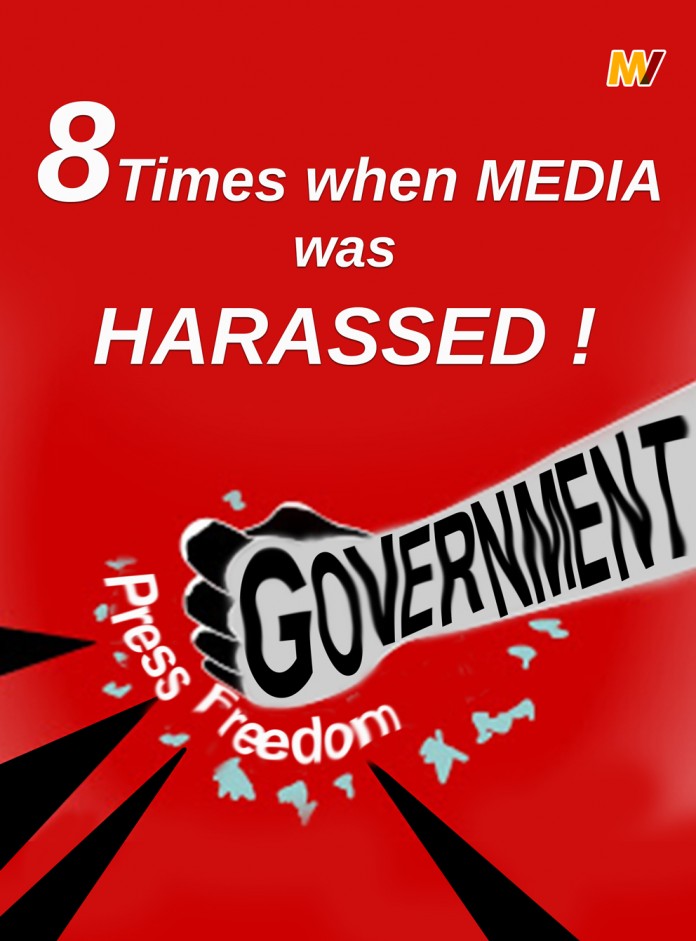 1. A phoney Act: In 2012, a so called act 'Freedom of Peaceful Assembly Act' was passed by the parliament which is being continuously obstructed at present. Well, that act set out a number of limitations on journalists, including a requirement for accreditation by the Maldives Broadcasting Commission (MBC), which regulates broadcast media.
2. Power to Snoop: Maldivian Govt. loves to dismantle freedom of journalists but 'Parliamentary Privileges Act,' did just that with their sources too. Watchdog groups like FIJ had raised concerns about this Act, according to which parts of the law could undermine journalists' constitutional right to protect sources. The act was passed in 2013 overriding a presidential veto. This step showed the desperation of the Govt. to stop the truth in its track.
3. Govt. Prejudice: In 2013, when Pres, Yameen won elections then injustice won too. That same year Raajje TV, the only opposition-aligned private television outlet, alleged the president's office of discriminatory behavior. The president's office had denied Rajje TV with the access to official events. In other instance the National Police Service racked hatred for refusing to cooperate with Raajje TV and barring it from press conferences and events.
4.Criminal Assault: Channel News Maldives (CNM) journalist Abdulla Haseen was accused for obstructing police duties during a 2012 protest. Though the charges were not filed until over two years later. In 2014 , the charges were dropped off him but this case marked the first criminal prosecution of a journalist since the adoption of the 2008 constitution .
5. Molesting the truth: 2014 marked itself as the most crucial period for media in regards of the attacks. A major case which remains unsolved till now involves the abduction of Minivan News journalist Ahmed Rilwan. He was abducted at knife point outside his apartment . At present too the police is not able to find either Rilwan or his abductor. Other than this,journalists and media outlets faced attacks and harassment throughout 2014, particularly regarding coverage of gang activities. Pres.Yameen is also feared to be an active person involved in the gang circuit settled in Maldives.
6. An Ultimatum: In September 2014, a security camera was violently removed from the Minivan News building and a rusty machete lodged in the door, this anonymous act was seen as a threat for reporting and investigating the real thing.
7. The Price: In November, a Facebook page posted photographs of those implicated in the Rilwan disappearance and the administrator of that page was not only abducted but also beaten for it. Guess what , such incidences have become so common that we are not shocked anymore.
More than 84% : According to an analysis by MBC in 2014, 84% of journalists faced threats and due to it nearly one-third of journalists self-censored. Not only this at least 16 journalists faced death threats after reporting on gang-related street violence during the year. Though the numbers must be more than these…
Topical Situation : Recently a bill mocking democracy and making a joke of it is named as 'Freedom of Expression' has been put up in Parliament. According to this bill defamation will become a criminal offense and the accused will be dealt according to the criminal laws. Opposing this bill, the journalists in Maldives had organized a sit in protest but were pepper sprayed mercilessly by the Maldivian Police or one should say the President's goons did so. A no. of 16 journalists have been arrested in that protest.
Freedom of expression has just become a mere word in Maldives, here the President i.e. the Dictator only wants to hear his praises and wants everyone else to suffer and earn for his corrupt treasure. He lies in front of the world and is actually Chameleon in a lion's den!
If Maldives is not saved from Pres. Yameen then the world will loose its Paradise to crooks!! #SaveMaldives