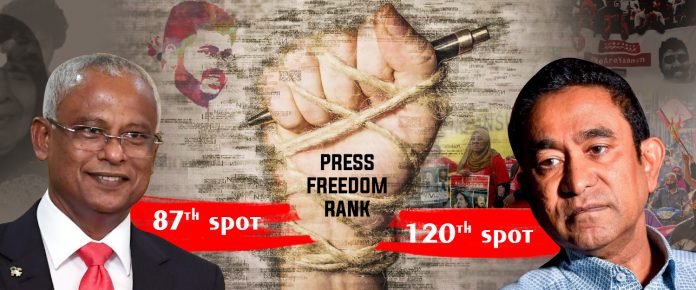 On the occasion of World Press Freedom Day, President Solih gave statements that his administration has ensured full freedom to media outlets and that his administration will continue to keep their commitment towards Press Freedom.
Maldives ranked 79 in last year's Press Freedom Index and this year, it was ranked at 87.
The Press Freedom Index is an annual ranking of countries published by Reporters without borders. The index is based upon their own assessment of the countries press freedom records.
Maldives Ranking over the last few years:
2018: 120th spot
2019: 98th spot
2020: 79th spot
2021: 72nd spot
2022: 87th spot
People have been showing concerns over the drop in ranks and has raised questions regarding economic censorship.
Deputy Speaker at People's Majili, Eva Abdulla stated that, "State control of media through sponsorship is a worrying trend."
State control of media through sponsorship is a worrying trend.Use of Govt funds, including millions from @presidencymv, ministries & state companies just to further Govt's agenda is manipulation. Govt's role must be to encourage independent journalism; rather than buying it off. https://t.co/GpeoPl38mH

— Eva Abdulla 🎈❓ (@evattey) May 3, 2022
The struggle for free journalism:
Maldives has always been in the hot seats or under flames whenever freedom for press came into question. It was not that long ago, when every international body would question the safety of journalist and the performance and quality of the fourth estate of the country, "journalism" within the island nation.
When Yameen came into power in 2013 and jailed many of his political opponents into exile, restricted protests, reduced media freedom, violated human rights— that's when things started crumbling down for Maldives.
In 2014, journalist Ahmed Rilwan went missing. He was known for criticizing the government. Two years later, Yameen Rasheed, a journalist who was known for his satirical comments towards the government, who was also looking for answers behind the missing case of his friend Ahmed Rilwan was found murdered inside his apartment.
Many believed that Yameen had a role to play in both occasions. Not long after, Yameen signed a criminal defamation law that would allow the law to generate fines and impose jail sentences for slander and defamatory speech.
This was an outright attack to the flexibility of exercising free speech by the journalists in the country. The law was criticized by the United Nations and the United States, both calling it a move against freedom of expression.
Maldives is doing relatively good, but can do better:
If we were to compare Maldives that had been ranked 120th position during Yameen's regime to 72nd position to now which is in 87th position, its a commendable feed but there is still a lot of improvement and a lot of addressing the issue to be done to make journalists feel safer.
President Solih on World Press Freedom Day stated that the past three years' experience has proven that responsible journalism in a developed democratic nation can only be achieved by giving complete freedom to the media instead of constructing them.
He also urged and reminded journalist to be true to their profession and asked them to carry forward their national duty and lead Maldives to progress. In conclusion, President Solih also recalled the many sacrifices of journalists in the Maldives' journey to democratic freedom and recognized those who lost their lives in this pursuit