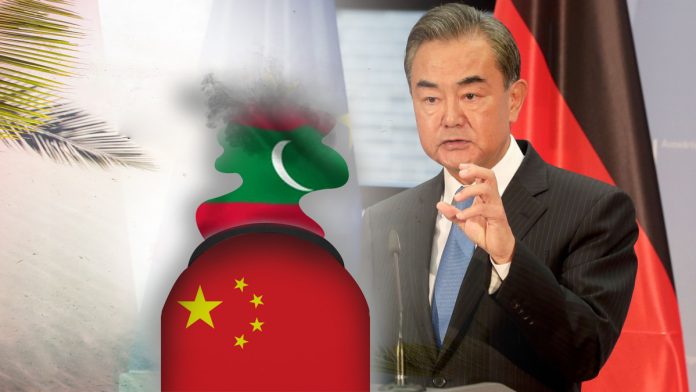 On January 8, China's Foreign Minister Wang Ye landed in Maldives, the Indian Ocean country which is eyed by Beijing for its strategic importance. Ostensibly, the visit coincided with the 50th anniversary of the establishment of China-Maldives diplomatic relations. Yet what particularly grabbed eyeballs in the diplomatic circle across the world was that the visit took place just a few days after ex-Maldivian President Abdullah Yameen's release from house arrest.
In 2019, Yameen was sentenced to five years in jail and fined US $5 million for embezzling US $1 million in state funds, he allegedly acquired through the lease of resort development rights, and laundering the proceeds. His jail term was shifted to house arrest because of the Covid-19 pandemic. China sees in Yameen an opportunity to re-establish its prominence primarily in the political and economic areas. Moreover, since the Presidential election in the archipelago country is scheduled to take place next year, Beijing places its political weight behind Abdullah Yameen, who facilitated China's deeper inroads into Maldives during his Presidential rule from 2013 to 2018.
In that process, China has adopted multi-pronged approach: First, impart a boost to campaign against the current political establishment through social media tools and mainstream news outlets like Dhiyares and sway the tech savvy educated class with the aid of an Islamist nationalist political agenda centred on pro-China narrative.
Second, create a political atmosphere for a change by bringing political parties like the Progressive Party of Maldives (PPM) and the People's National Congress (PNC) together.
Third, give a thrust to the developmental agenda in order to convince Maldivians that China takes care of Male's interests. It should be noted that during his visit to Maldives, Chinese Foreign Minister Wang Ye signed five agreements with his Maldivian counterpart Abdulla Shahid and they included Hospital Assistance and Cooperation Programme, setting up micro-grid sea water desalination plants in five islands of Maldives, economic and technical cooperation agreement, visa waiver agreement, maintenance of China-Maldives Friendship Bridge.
Fourth, continue with cheque-book diplomacy to deepen cooperation between the two countries. During Wang Yi's day-long visit, China offered Maldives US $63 million in grants for infrastructure projects. The archipelago country is already hugely indebted to China. Although Maldives officially owes $1.4 billion to the Middle Kingdom but there is more to this than meets the eye. Its debt to China is higher than US $3.5 billion even as it is only a US $5 billion economy with tourism as its only life line. This figure includes government to government loans, money given to state enterprises and private sector loans guaranteed by the Maldivian government.
Fifth, take Pakistan's support as it has a deep link with Islamist groups who are not in good terms with the Solih government for its action against radical elements in the island country. It should not be forgotten that Islamic radicalisation has grown in Maldives and the country has the dubious distinction of providing the maximum recruits for ISIS.  Islamic radicals in the media and the press are backing Abdulla Yameen in his attempt to stoke political fire across the country as it heads for Presidential election in 2023. 
By undertaking such measures, China has only one objective and that is to regain its political and economic dominance in the country whose location in between the Gulf of Aden and the Malacca Strait, makes it a very important archipelago in the Indian Ocean. In Maldives, China is giving a major facelift to FeydhooFinolhu Island, leased to the Middle Kingdom in 2016 for 50 years by then Maldivian government headed by Abdulla Yameen at the paltry sum of US $4 million. Since 2018, the island has witnessed a significant increase in size—from 38,000 sq metres to 1,00,000sq metres and is witnessing rapid construction despite Ibrahim Solih-headed government in power in the country.
China utilizing this island for military purposes can't be wished away. In fact, there is desperation among the Chinese leadership for the second military base in the Indian Ocean after Djibouti in East Africa. With a military base in Maldives' FeydhooFinolhu Island, the Chinese strategists think that Beijing can take care of its interests in the Indian Ocean. In particular, it is concerned about the Malacca Strait, the narrow waterway that passes through Indonesia and Malaysia and through which more than 70 per cent of the Chinese goods and oil are shipped every year. In a way, China is heavily dependent on the Malacca Strait for the survival of its economy. It fears that its rivals can choke it to death if they block the movement of goods—to-and-fro from the Middle Kingdom. This is the reason it has set its eyes on Maldives as a friendly government here can boost its chance to turn FeydhooFinolhu Island into a full military base.
Experts say China is trying to replicate its island grabbing strategy of the South China Sea in Maldives. The only difference is in the South China Sea, China simply claimed sovereignty over the disputed islands and in the Indian Ocean Region—especially in Maldives and Sri Lanka, it is using the financial muscle to establish infrastructure. Overall, competitive domestic politics of Maldives is allowing China to play its card very deftly. But the dominant question is: How much its' backing of former President Abdullah Yameen and fuelling of political cauldron in the name of regime change will help it is in the realm of speculation.