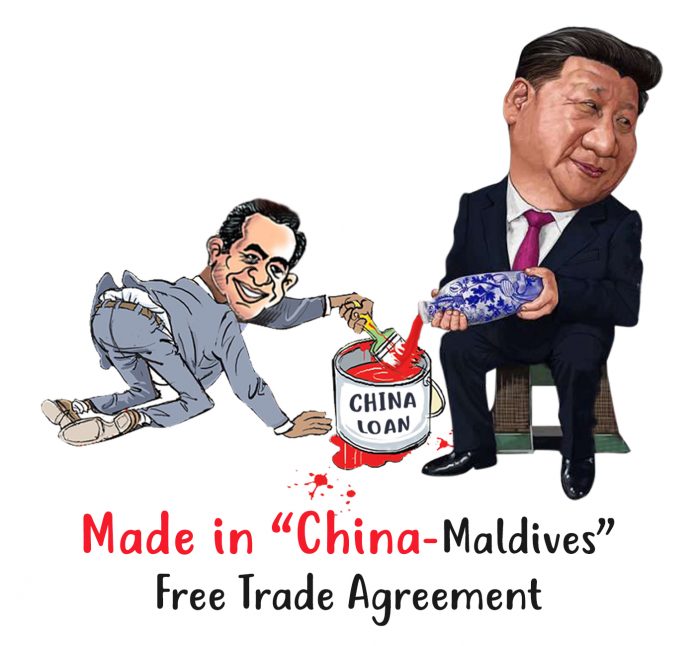 On 29 November, Abdulla Maseeh Speaker of Parliament called for an emergency sitting, to pass the FTA with China. 1000 page Agreement was sent to the Parliamentary oversight committee on national security affairs within 3 minutes of submission to the floor. The Committee reviews the Agreement took less than 10 minutes behind the close door . Thirty lawmakers present during the late Wednesday sitting voted in favour of signing the agreement, most PPM MPs are echoing its benefits without knowing fact of the pact to the archipelago with of course no opposition lawmaker present. Free trade agreement was made during Chinese President Xi Jinping's historic state visit to the Maldives in September 2014. Maldives will become the 2nd country in the South Asia region to sign the agreement after Pakistan .
China's free trade agreements in South Asia
1. China – Pakistan FTA: Concluded
2. China – Nepal FTA: Feasibility study concluded without positive outcome
3. China – Sri Lanka FTA: Exploratory talks underway
4. China – Bangladesh FTA: Feasibility study proposed
5. China – India FTA: A pipe dream
China's Free Trade Agreements in South Asia
Why is Yameen's government in haste to pass the agreement? This concern is raising eyebrows that how will Maldives profit in the future .
Some fact about free Trade Agreement with China is not befitted to Pakistan – Pakistan seeks changes in free trade agreement with China
Pakistan has failed when it comes to trade with China
Lessons for Pakistan to learn from Free Trade Agreement with China.
Many opposition leaders expressed concern over the secrecy of the deal .
A 1000 page Agreement on Free Trade between China & Maldives rushed through Parliament today. First sitting lasted 5 mins. Committee reviewed Agreement in under 10 mins. Took 10 mins to vote at the Final sitting. MPs not shown document. No debate. Serious questions on legitimacy! pic.twitter.com/iSok8ln7CJ

— Abdulla Shahid 🎈 (@abdulla_shahid) November 29, 2017
Deeply concerned that the FTA between China and Maldives is going into effect without necessary & vital democratic checks. The people of the Maldives have not been informed relevant details of a deal, that will affect generations to come.

— Mohamed Musthafa (@Thimarafushi) November 30, 2017
The Free Trade Agreement with China is likely to disrupt traditional regional trade setups of Maldives and have serious repercussions in the long term. We will be entirely dependent on China for imports.

— Fayyaz Ismail (@faya_i) November 29, 2017
A Free Trade Agreement between the Maldives and China will be detrimental to our economy as balance of trade is greatly in favour of China. The agreement must be in the best interest of the people of Maldives.

Will the Economist pls explain: 1) What products will Maldives be exporting to China tax free under this bilateral agreement? (2) How will the Govt replace the tax revenue loss from Chinese imports? pic.twitter.com/lyWYi7BkwA

— Dhiyana 🎈 (@dhiyanasaid) November 30, 2017

— Mohamed Nasheed (@MohamedNasheed) November 29, 2017
Parliamentary Committee vetting the Free Trade Agreement with China took less than 10 minutes to approve it. MPs were not given a chance to review or even see the actual Agreement. https://t.co/J2QZwMdJKc

— Eva Abdulla 🎈❓ (@evattey) November 29, 2017
Parliament session held without even informing us, by the person impersonating as speaker! This is beyond ridiculous!!!!

— MP Rozaina Adam 🎈 (@Roxeyna) November 29, 2017
Extraordinary Parliamentary sitting held today w/o giving notice to a number of opposition MPs including me.Sitting began @ 14:30 but notice sent to me @ 14:38. @GermanyinSL pic.twitter.com/CNWmltYVyb

— Imthiyaz Fahmy (@Imthiyazfahmy) November 29, 2017
Under the Maldivian Constitution, any treaties & agreements with foreign states & international organisations, which impose obligations on citizens, must be approved by the parliament (43 MPs must be present in the floor) before the president can ratify them. @XHNews @PDChina

— Thayyib #PN2018 (@thayyib) November 29, 2017
The Maldivian Democratic Party,  expressed concern over the deal and the growing trade deficit with China.